MP Jarrah: General Hajj was the first false witness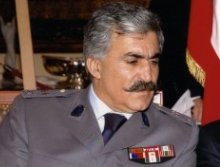 During an interview with al-Alam TV, March 14 MP Jamal al-Jarrah criticized on Friday former Lebanese Internal Security chief General Ali al-Hajj saying he was the first to mislead the investigation in the assassination of former Prime Minister Rafik Hariri.
Jarrah said: "Hajj was the first to mislead the investigation when he issued a statement about Abu Adas at 8:37pm of February 14, 2005."
Soon after Hariri's assassination a videotape was aired showing Ahmad Abu Adas, a Muslim extremist, claiming to be behind the crime.
Jarrah added: "Discussion of false witnesses and straying away from the international investigation is political talk that will not yield any results."
"We should not forget that the main cause is Hariri's assassination," he said.
Hajj and 3 other generals were detained from 2005 to 2009 on suspicion of involvement in former PM Rafik Hariri's murder. In April 2009, the Special Tribunal for Lebanon (STL ) ordered their release without charges due to insufficient evidence. STL prosecutor made it clear at the time they were set free that their release did not mean they are Innocent and that once more evidence is available they could be back in jail.