Jumblatt: I will defend Hamadeh even if this includes involving Assad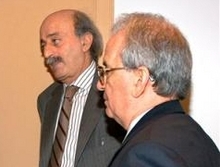 MP Walid Jumblatt said an interview with Al-Ousbou al-Arabi magazine that the purpose of the Special Tribunal for Lebanon (STL) has become political, adding that certain Christian political figures must refrain from making statements "to preserve what is left of Lebanon's Christians."
His comment comes after The Lebanese Forces (LF) and the Free Patriotic Movement engaged in a battle of words after FPM leader MP Michel Aoun said on Tuesday that LF leader Samir Geagea should not take to the streets and use arms. Geagea responded to Aoun on Wednesday, saying "I did not expect you to reach such a low level and for you to call on your allies to militarily attack your Christian opponents."
Jumblatt said that he is now a centrist , between the March 14 and March 8 coalitions, adding that his position benefits the Druze community and Lebanese-Syrian relations.
"Somewhere in the West, some masterminds have planned to drown Muslims in total chaos to keep them busy and divert their attention from the main cause – Palestine. When everyone gets entangled in killing, slaughters and discord, the Israelis become satisfied, " he said.
"Throughout history, no sect had been able to govern Lebanon on its own," Jumblatt said in response to reports that Hezbollah is planning to take over the country as it tried to do in May 2008
Jumblatt said that he will defend his friend MP Marwan Hamadeh, who is reportedly included on the list of people who allegedly gave false testimonies to the international commission investigating the 2005 assassination of former Prime Minister Rafik Hariri.
"I will defend Hamadeh even if I had to involve Syrian President Bashar al-Assad, but first, let us see if Hamadeh is actually involved in the case, as I do not believe he is," Jumblatt said.
Last Sunday the Syrian judiciary reportedly issued 33 arrest warrants for judges, officers, politicians and journalists of Lebanese, Arab and other nationalities in the case brought by former Lebanese General Security chief Jamil as-Sayyed, according to a statement from Sayyed's office.
In December 2009, Sayyed filed a lawsuit in Damascus against various defendants whom he alleges were involved in a conspiracy of false testimonies against him.
Sayyed and 3 other generals were detained from 2005 to 2009 on suspicion of involvement in former PM Rafik Hariri's murder. In April 2009, the Special Tribunal for Lebanon (STL ) ordered their release without charges due to insufficient evidence. STL prosecutor made it clear at the time they were set free that their release did not mean they are Innocent and that once more evidence is available they could be back in jail.