Iran, Hezbollah chiefs to make joint appearance in Lebanon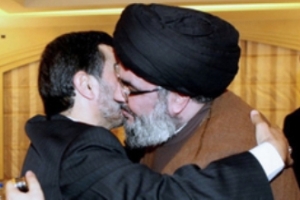 Iranian President, Mahmoud Ahmadinejad, who will be visiting Southern Lebanon next week, will appear at a rally side by side with Hezbollah Secretary General Sayyed Hassan Nasrallah next week at the Al-Raya stadium organized by Hezbollah for the Iranian leader's visit to Lebanon, a Hezbollah official said on Thursday.
The Al-Raya stadium is located in Hezbollah's stronghold in southern Beirut. The facility and the immediate surrounding area can hold some 40,000 people, according to Hezbollah.
"We are organizing a rally in honor of President Mahmoud Ahmadinejad next Wednesday at the Al-Raya stadium and we expect Sayyed Hassan Nasrallah to make an appearance," the official, who spoke on condition of anonymity, told Agence France Presse.
It is unclear, however, whether Nasrallah would appear in person or via video link as is usually the case for security reasons. Except for a brief appearance in July 2008, Nasrallah has been hiding since the July 2006 war between Hezbollah and Israel.
Ahmadinejad's official visit to Lebanon from October 13-14 is reportedly eagerly anticipated by Hezbollah, which is planning to give him a warm welcome as well as a tour of the southern border region with Israel.
Ahmadinejad has also reportedly told Syrian president Bashar Assad durin his last visit to Damascus that he viewed the entire area of southern Lebanon as Iran's border with Israel.
The trip has sparked controversy in Lebanon with some members of the March 14 parliamentary majority calling it a provocation.
Hezbollah receives substantial amounts of financial, training, weapons, explosives, political, diplomatic, and organizational aid from Iran .
Hezbollah was established in Lebanon in 1982 by the Iranian Revolutionary Guard Corps.
In its founding statement, Hezbollah declared itself committed to the "creation of an Islamic republic in Lebanon." Tehran then sent hundreds of clerics and Revolutionary Guards to Lebanon to preach Iranian theology and draft recruits.