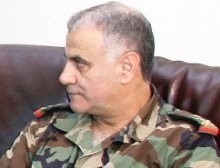 Lebanese Army Commander Gen. Jean Kahwaji on Thursday warned that the LAF will firmly confront any attempt to incite sedition in the country.
"There are no indicators that regional conflicts may affect Lebanon," Kahwaji said, adding that linking disputes between Lebanese people with sedition is a danger we will not allow to happen, Kahwaji said during a meeting with command chiefs and unit commanders at army headquarters in Yarze.
During the meeting he gave instructions regarding the army's role in defending the country and preserving peace, National News Agency reported
Tension escalated in Lebanon after reports said that the Special Tribunal for Lebanon (STL) will soon issue its indictment into the 2005 assassination of former Prime Minister Rafik Hariri. Last July, Hezbollah Secretary General Sayyed Hassan Nasrallah said that the tribunal is "an Israeli project" that will indict Hezbollah members. Nasrallah accused Israel of being behind Hariri's assassination but refused to provide the evidence to STL.
There are fears that, should the court indict Hezbollah members, it could lead to clashes similar to those of the 2008 May Events.
Kahwaji said that the differences between the various Lebanese factions are basically a democratic phenomenon, particularly if it does not harm fundamental national principles.
"But linking this variation with statements on division and strife pose a threat to the country and we will not allow that at all," he warned.
"The army will strongly confront any attempts to stir discord or put our own citizens at risk under any circumstances," he warned.