Kahwaji warns: The Lebanese army is a red line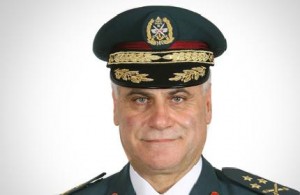 Lebanese Army commander Gen. Jean Kahwaji revealed that implementation of a security plan is underway in Beirut , the north, the east and south Lebanon.
Kahwaji said the "military-security plan" covers, apart from Beirut, sensitive points in the north, the Bekaa and Sidon as well as the Beirut-Sidon coastline.
The plan, according to Kahwaji , coincides with appeals to religious leaders to take the initiative to spreading calls for the adoption of "moderation in speeches." It is not clear if the plan includes Hezbollah stronghold in Dhahia, a southern Beirut suburb.
Kahwaji , in remarks published Friday by As-Safir newspaper, believed the Lebanese people do not want to "move backwards."
Lebanese, he said, "cling on to the State and the Army. But the problem is with some rhetoric which sometimes is the cause for tension."
Kahwaji warned against any attempt to target the military in an effort to achieve "political and media objectives and gains."
"The army is a red line and we will not stand handcuffed," he warned.
Kahwaji assured that the situation in southern Lebanon is "quiet."
"There are no fears of an Israeli offensive. The military continues to shoulder its responsibilities — defending the country against any Israeli threat or aggression," Kahwaji stressed.
"There are no indicators that regional conflicts may affect Lebanon," Kahwaji said yesterday during a meeting with command chiefs and unit commanders at army headquarters in Yarze , adding that linking disputes between Lebanese people with sedition is a danger we will not allow to happen.
"The army will strongly confront any attempts to stir discord or put our own citizens at risk under any circumstances," he warned.
Tension escalated in Lebanon after reports said that the Special Tribunal for Lebanon (STL) will soon issue its indictment into the 2005 assassination of former Prime Minister Rafik Hariri. Last July, Hezbollah Secretary General Sayyed Hassan Nasrallah said that the tribunal is "an Israeli project" that will indict Hezbollah members. Nasrallah accused Israel of being behind Hariri's assassination but refused to provide the evidence to STL to support his claim.
There are fears that, should the court indict Hezbollah members, it could lead to clashes similar to those of the 2008 May Events.