Syrian Judiciary summoned all 4 lebanese generals
The Syrian judiciary summoned Lebanese generals Raymond Azar, Jamil Sayyed, Ali al-Hajj, and Mustafa Hamdan for a hearing in the false witnesses case, local media reported.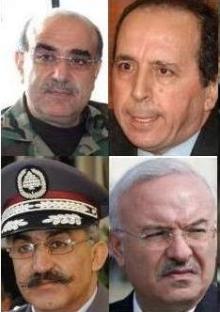 All the above mentioned generals were detained from 2005 to 2009 on suspicion of involvement in former PM Rafik Hariri's murder. In April 2009, the Special Tribunal for Lebanon (STL ) ordered their release without charges due to insufficient evidence. STL prosecutor made it clear at the time they were set free that their release did not mean they are Innocent and that once more evidence is available they could be back in jail.
In December 2009, Sayyed filed a lawsuit in Damascus against various defendants whom he alleges were involved in a conspiracy of false testimonies against him.
Last Sunday the Syrian judiciary reportedly issued 33 arrest warrants for judges, officers, politicians and journalists of Lebanese, Arab and other nationalities in the case brought by former Lebanese General Security chief Jamil as-Sayyed, according to a statement from Sayyed's office.
Sayyed denies
In response to Sayyed's statement denying that he was summoned by the Syrian judiciary to testify in the issue of false witnesses, Syrian lawyer Houssam Eddine al-Habash said on Tuesday that an official summon for such an issue takes time because it requires a certain procedure, adding that the military justice will inform Sayyed and the other three generals of the summon.