Egypt, Saudi FMs: Efforts to sabotage STL will fail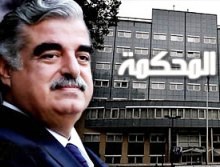 Egypt and Saudi Arabia stressed their support for the Special Tribunal for Lebanon ( STL) and said efforts to sabotage it will fail, Egyptian foreign ministry said.
STL was created by the UN to try the killers of Lebanon's former PM Rafik Hariri and related crimes.
Egyptian Ministry spokesman Hossam Zaki was speaking after a brief trip to Jeddah by Egypt's Foreign Minister Ahmed Abul Gheit, who had talks with his Saudi counterpart Prince Saud al-Faisal. The talks focusing on Lebanon.
The two ministers underlined "the necessity for all parties to engage in stabilizing Lebanon and supporting its government and the Special Tribunal for Lebanon" (STL) created by the United Nations in 2007, Zaki said.
"The position of Egypt and Saudi Arabia is clear: attempts to ensure the failure of the tribunal's work will not succeed," added Zaki
Monday's meeting in Jeddah comes after tension escalated in Lebanon following reports that the Special Tribunal for Lebanon (STL) will soon issue its indictment into the 2005 assassination of former Prime Minister Rafik Hariri. Last July, Hezbollah Secretary General Sayyed Hassan Nasrallah said that the tribunal is "an Israeli project" that will indict Hezbollah members. Nasrallah accused Israel of being behind Hariri's assassination but refused to provide the evidence to STL. Some March 8 coalition politicians have been calling for the abolition of the tribunal, while Free Patriotic Movement leader MP Michel Aoun and former head of General Security Jamil as-Sayyed publicly attacked the government.
Sayyed has alleged in a lawsuit that the U.N. probe is based on fabricated testimony aimed at implicating Syria and its supporters in Lebanon in Hariri's killing.
Damascus has consistently denied any involvement in the assassination, and last month, in a stunning about-turn, Lebanon's Prime Minister Saad Hariri said he had been wrong to prematurely point the finger at Syria.
Sayyed along with 3 other generals was detained from 2005 to 2009 on suspicion of involvement in former PM Rafik Hariri's murder. In April 2009, the Special Tribunal for Lebanon (STL ) ordered their release without charges due to insufficient evidence. STL prosecutor made it clear at the time they were set free that their release did not mean they are Innocent and that once more evidence is available they could be back in jail.
In December 2009, Sayyed filed a lawsuit in Damascus against various defendants whom he alleges were involved in a conspiracy of false testimonies against him.
Last Sunday the Syrian judiciary reportedly issued 33 arrest warrants for judges, officers, politicians and journalists of Lebanese, Arab and other nationalities in the case brought by former Lebanese General Security chief Jamil as-Sayyed, according to a statement from Sayyed's office.