Najjar: Lebanon has not recieved any notification from Syria over arrest warrants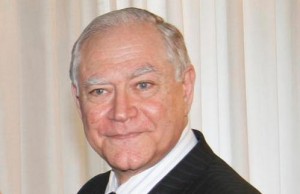 Lebanese Justice Minister Ibrahim Najjar told LBCI television on Tuesday that the Lebanese state has not yet received any notification from Damascus regarding the arrest warrants reportedly issued Sunday against Lebanese figures.
He stressed that this "issue will be dealt with on a State-to-State basis".
On Sunday the Syrian judiciary reportedly issued 33 arrest warrants for judges, officers, politicians and journalists of Lebanese, Arab and other nationalities in the case brought by former Lebanese General Security chief Jamil as-Sayyed, according to a statement from Sayyed's office.
Sayyed along with 3 other generals was detained from 2005 to 2009 on suspicion of involvement in former PM Rafik Hariri's murder. In April 2009, the Special Tribunal for Lebanon (STL ) ordered their release without charges due to insufficient evidence. STL prosecutor made it clear at the time they were set free that their release did not mean they are Innocent and that once more evidence is available they could be back in jail.
In December 2009, Sayyed filed a lawsuit in Damascus against various defendants whom he alleges were involved in a conspiracy of false testimonies against him
"Such matter will be dealt with on the basis of state-to-state relations [with Damascus]," Najjar said, adding that the Lebanese government cares about maintaining good relations with Syria "while preserving the sovereignty and justice [of both countries]."
He also said that he will distribute his report on the issue of false testimonies in the investigation of the Rafik Hariri murder during Wednesday's cabinet session in order to discuss the issue in subsequent ministerial meetings.
On August 18, the cabinet delegated Najjar to prepare a report on false testimonies in the international investigation into the Rafik Hariri assassination.
On October 4 the cabinet also asked Najjar to handle the issue of arrest warrants with his Syrian counterpart
Political par excellence
Social Affairs Minister Selim Sayegh told Future News on Tuesday that the Syrian arrest warrants against Lebanese figures were "political par excellence."
"There is no legal value for the arrest warrants," Sayegh added.
He also said that the move is a setback to Lebanese-Syrian relations, adding that the issue should be resolved through calls between the country's authorities.
Political motive
Minister of State Jean Ogassapian told the Voice of Lebanon (VOL) radio station on Tuesday that he wishes Syria had not issued arrest warrants against Lebanese figures on Sunday in the way they were announced.
"The warrants are judicial, but they have political [motives]," Ogassapian said, adding that they were made to affect "the path of openness [to Syria] that was adopted by Prime Minister Saad Hariri."
Interpol
Head of the Parliamentary Justice and Administration Commission MP Robert Ghanem told the Voice of Lebanon (VOL) radio station on Tuesday that "the Syrian state cannot have more authority over the Lebanese people than the Lebanese state does as long as there is a judiciary [in Lebanon]."
Ghanem added: "Regardless of the message behind the arrest warrants, there is a treaty between Lebanon and Syria that calls on the State Prosecutor to take into account the State's provisions. This did not happen."
Ghanem called on Interpol to confirm that Syria issued the warrants and ensure that the move was not politically motivated.
Weird measure
Mustaqbal MP Ammar Houri told New TV : "Syrian arrest warrants is a weird measure. No matter what, Premier Hariri and his Mustaqbal Movement and the majority will not change their conviction in opening a new page in ties with Syria. "