Hezbollah to try to block Lebanon's funding for STL
Hezbollah will use its position in government to try to block Lebanon's funding for the U.N. court investigating the 2005 assassination of former Prime Minister Rafik Hariri, the group's spokesman said Wednesday.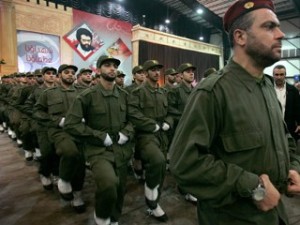 Hezbollah's leader has said the tribunal looking into Hariri's death could indict some of the Iranian-backed group's members, fueling the country's worst political crisis in years. Hezbollah contends the tribunal has been poisoned by witnesses who have given false information.
The indictments could be issued as early as next month.
"You know our position on the tribunal, so we cannot agree to finance it," Hezbollah spokesman Ibrahim Moussawi told The Associated Press on Wednesday when asked if his party will try to block the funding in Lebanon's budget.
"Hezbollah and its allies have decided to oppose any financing of the tribunal," Ghaleb Abu Zeinab, a member of Hezbollah's political bureau, said in an interview with Agence France Presse on Wednesday.
Ammar Moussawi, in charge of international relations for Hezbollah, said Wednesday the tribunal represented a ticking "time bomb."
Lebanon pays 49 percent of the tribunal's costs, with other U.N. member states providing the remainder.
Hezbollah has a key role in the country's fragile national unity government, which is led by the slain leader's son — Prime Minister Saad Hariri — who heads a Western-backed coalition. The Cabinet has delayed discussions on the 2011 draft budget as lawmakers debate funding for the tribunal.
Hezbollah could unify the opposition to stop the funding. According to the resolution that created the tribunal, other countries would step in if Lebanon failed to provide its share. Still, such a decision would be a strong message that support for the tribunal is lagging.
Despite opposition to the court, Prime Minister Saad Hariri and his supporters insist the tribunal will go forward.
The bombing that killed Rafik Hariri and 22 other people along Beirut's Mediterranean waterfront on Feb. 14, 2005, was one of the most dramatic political assassinations the Middle East has seen. A billionaire businessman, Hariri was Lebanon's most prominent politician after the 15-year civil war ended in 1990.
Suspicion immediately fell on neighboring Syria, since Hariri had been seeking to weaken its domination of the country. Syria has denied having any role in the murder, but the killing galvanized opposition to Damascus. Huge street demonstrations helped end Syria's 29-year military presence, paving the way for pro-Western parties to head the government in subsequent elections.
But since then, the tack of the investigation appears to have shifted toward Hezbollah — Syria's ally in Lebanon. Though the tribunal has not yet named any individuals or countries as suspects, Hezbollah's leader, Sheik Hassan Nasrallah, has announced that he expects members of his group to be indicted. He vows not to hand them over to be prosecuted.
The disputes are intensifying a long-running power struggle between Hariri's supporters and Hezbollah that exploded into street violence in Beirut in May 2008. AP