Allawi urges Syria to press Iran not to mess with Iraq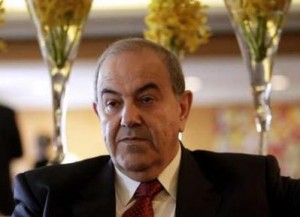 A leading candidate in the contested race to lead Iraq's new government insisted during a visit to Syria on Wednesday that he would not take part in any coalition headed by his rival, the current prime minister.
Former Prime Minister Ayad Allawi narrowly defeated Prime Minister Prime Minister Nouri al-Maliki's Shiite-dominated bloc in the March elections, but no single group has pulled together enough support to name a new prime minister and start assembling a government.
"Regretfully, there is a determination to confiscate the will of the Iraqi people and prevent the Iraqiya bloc from ascending to power," he said in a news conference Wednesday after a meeting with Syrian President Bashar Assad.
Allawi's visit coincided with the arrival in Syria of Iraqi Shiite cleric Muqtada al-Sadr, who also leads a political group that has opposed keeping al-Maliki in power.
Allawi and al-Sadr, who rarely travels outside of his home base in Iran where he lives in self-imposed exile, held talks in Damascus in July in a meeting that was arranged by the Syrian president. But this time, Allawi said he had no plans to meet with al-Sadr.
Although both men have come out against al-Maliki, it is unlikely they would form an alliance because of deep differences in their constituencies. Al-Sadr leads a hardline and religious Shiite faction, while the bulk of Allawi's Iraqiya alliance is made up of Sunnis.
Al-Maliki has been strongly courting al-Sadr in recent days in hopes of bringing the anti-American cleric's followers back into his camp so the prime minister can retain his post with widespread and united Shiite support.
On Wednesday, Allawi also asked Iran not to interfere in Iraq's affairs.
"We have asked Arab and foreign leaders, who have relations with Iran, to ask the brothers in Iran not to interfere in the Iraqi affairs and to leave any decision to the Iraqi will," he said. Syria and Iran have close ties.
Al-Sadr's followers won 39 seats in the 325-seat parliament in Iraq's national election in March, giving him considerable sway over who becomes the next prime minister.
Following the ballot, al-Sadr joined a coalition with al-Maliki's list, but the deep-rooted hatred many in the Sadrist camp feel toward the prime minister — who's jailed thousands of their supporters — has stalled further development of their alliance.
Iraq is now in its seventh month without a government since the inconclusive March 7 elections. Allawi's Iraqiya bloc won 91 seats compared to 89 for al-Maliki's coalition, but neither won the 163-seat majority necessary to govern.
On Tuesday, Vice President Joe Biden spoke to Allawi by telephone, saying all four winning coalitions should have the opportunity to play a role in the new government.