Geagea: President Suleiman must remain a centrist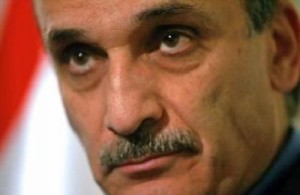 During a live interview on Future News television Lebanese Forces leader Samir Geagea on Wednesday criticized President Michel Suleiman's recent remarks , in which he reportedly said that the Special Tribunal for Lebanon must regain its credibility.
"President Suleiman must remain a centrist, but that doesn't mean that he mustn't describe things as black or white, what has the tribunal done so that he says it must steer clear of politicization?" Geagea said
Geagea wondered what actions the STL committed to warrant it being called politicized by President Suleiman.
"One can't be a centrist in all matters, he noted that the tribunal must regain its credibility by steering clear of politicization, but how did it lose" credibility, Geagea added.
The LF leader stressed that only judicial authorities are "entitled to identify false witnesses, the thing that hasn't occurred up till now."
He reassured that he was "fully confident that any domestic clash or attack by the Hezbollah-led camp will be confronted by the army and the Internal Security Forces," stressing that "the circumstances have changed since 2008 up till now."
He was referring to the infamous street battles that rocked Lebanon in May 2008.
He is referring to the May 7 , 2008 event when gunmen of a Hezbollah-led alliance occupied the Sunni part of Beirut and tried but failed to occupy the Druze stronghold of Mt Lebanon . More Hezbollah gunmen were reportedly killed during the event than in the 2006 war with Israel.
Tension ran high in Lebanon following reports that the STL would soon indict Hezbollah members in Hariri's murder.
"The coup which is in the making started during the 2009 parliamentary elections, they thought that by winning over ( MP Walid ) Jumblatt they'd be able to win over (Premier Saad) Hariri and return to power," Geagea noted.
"What we hear nowadays is unacceptable," the LF leader added.
Several Hezbollah politicians and their allies are calling for the abolition of the STL. Hezbollah MP Nawwaf al-Moussawi said last Friday that any group in Lebanon which "abides by the tribunal's pending indictment will be dealt with on the basis that it is one of the tools of US-Israeli aggression."
Comments about Aoun
Answering a question on his recent initiative towards the supporters of the Free Patriotic Movement, Geagea said that FPM leader MP Michel Aoun and his inner circle have become "alienated from the cadres and youths of the FPM."
"That's why the call I addressed has been rejected," he added.
Geagea said Aoun's attacks against state institutions show that there are attempts to bring back Lebanon to the way it was before 2005—referring to the 29 years of Syrian occupation of Lebanon.
"Which is more legitimate? The Lebanese Internal Security Forces Information Branch or Hezbollah's military division?" Geagea asked, adding that what happened at Beirut's Rafik Hariri International Airport was enough to answer his question.
Tension between March 14 and Hezbollah escalated after armed Hezbollah bodyguards received former General Security chief Jamil as-Sayyed who is wanted by the Lebanese judiciary at the VIP launch of Beirut's Rafik Hariri International Airport without the needed permission from the ministry of Foreign affairs .
The LF leader said that Aoun's openness only to Iran and Syria isolates the Christians. Geagea also voiced his desire for Christians to be open to relations with the Arab as well as the western countries.