Berri: No obstacles over false witnesses issue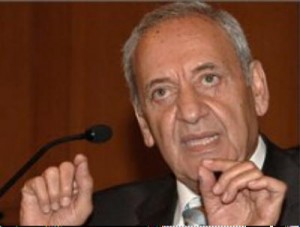 An-Nahar newspaper quoted on Thursday Speaker Nabih Berri as saying that there are no obstacles regarding the issue of the false witnesses, stressing that Justice Minister Ibrahim Najjar will submit a report on false witnesses at the first Cabinet meeting to convene under President Michel Suleiman upon his return from Mexico.
He added that Najjar would have recovered from his illness by then and would present to the Cabinet "what he has already prepared in this regard."
The cabinet delegated Najjar on August 18 to follow up on the issue of the false witnesses who gave fake testimonies in the investigation of the 2005 assassination of former Prime Minister Rafik Hariri.
Suleiman headed from the US to Mexico last week.
False witnesses
The following Syrian agents , which were described as false witnesses provided information to the UN investigation team:
Mohammed Zuhair Siddiq also known as Mohamad Zouhair Siddik is a self proclaimed former Syrian intelligence operative who used to live in Lebanon.
Husam Taher Husam another self proclaimed former Syrian intelligence operative
Both provided information that led the Lebanese authorities to arrest the four Lebanese generals.
Husam now lives in Syria while Siddiq is reportedly now living in Australia
According to Ya Libnan legal advisers there is no such a thing as a false witness before indictments are made . Only the courts during the trial can determine whether a witness is for real or false. At this stage no body knows who will be indicted, despite the fact that Hezbollah chief Sayyed Hassan Nasrallah has revealed that some members of the party will be indicted. Such information is not coming from STL …such information is most probably assumptions or extrapolations coming from Hezbollah members that were interrogated by the Investigators. The trials will start after the indictments are made . There are 12 judges , 4 of them are Lebanese .
Many Lebanese legal experts believe that the issue of false witnesses is being used by Hezbollah and its allies to undermine and discredit the Special Tribunal for Lebanon.