US warns Syria against destabilizing Lebanon, Iraq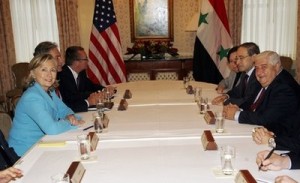 US Secretary of State Hillary Clinton warned Syria on Monday against taking destabilizing measures in either Iraq or Lebanon, during talks with her Syrian counterpart Walid Muallem in New York.
"The secretary was very direct and making clear, both in the context of Lebanon and Iraq that we discourage any efforts to undermine the stability of either country," State Department spokesman Philip Crowley said.
Despite a gradual warming of relations between Washington and Damascus, Crowley underlined "concerns about Syria's activities inside Lebanon and its relationship with Hezbollah."
Iraq and Syria last week restored diplomatic relations after a year-long row in the aftermath of massive truck bombs in Baghdad.
The two countries agreed to exchange diplomats after both capitals recalled their envoys last year.
Clinton and Muallem met on the sidelines of the General Assembly in New York in just the second meeting between the two ministers since March 2009, when they talked briefly in Egypt during a donors conference for the Gaza Strip.
During her New York discussions with Muallem, Clinton "affirmed our objective of comprehensive peace in the Middle East which includes the Syrian track," Crowley said.
"Foreign Minister Muallem was very interested in pursuing that," he added.