Sarkozy to hold Mideast peace talks in Paris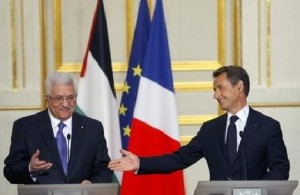 French President Nicolas Sarkozy said Monday he would have Israeli-Palestinian peace talks next month in Paris.
Sarkozy said Palestinian Prime Minister Mahmoud Abbas and his Israeli counterpart Binyamin Netanyahu have accepted his invitation, French newspaper Le Figaro said on its Web site.
Sarkozy will also invite Egyptian President Hosni Mubarak to the talks, which are aimed at preparing a larger summit of leaders from Europe and the Middle East in late November, the French president said.
Sarkozy made the announcement during a news conference with Abbas in Paris, who arrived Sunday evening in the French capital for a two-day visit, which came as a moratorium on additional Israeli settlements in the West Bank — frozen for several months following international pressure — was lifted.
Both leaders told reporters they regret that Israel refused to extend the moratorium, saying renewed construction hampers peace efforts.
"The settlements must stop," Abbas said, adding that the moratorium, which expired Sunday, should be extended by at least three months "to give peace a chance."
However, despite previous warnings, Abbas said he wouldn't immediately withdraw from the peace talks. There won't be "quick reactions," he said.
Rather, he would wait with a decision until after a meeting of the 22-member Arab League next Monday, he said. He made it quite clear, however, that direct peace talks are unlikely if Israel continues its current settlement policy.
Sarkozy said Monday he "deplored" the resuming of settlement construction and added he would telephone Netanyahu and urge him to consider extending the moratorium.
Netanyahu, who had earlier urged settlers to display restraint, in a statement released Sunday said that Israel "is ready to pursue continuous contacts in the coming days to find a way to continue peace talks."
The United States, a key player in the Middle East peace process and the sponsor behind the peace talks, is also trying to convince Israel to hold construction for now. U.S. Secretary of State Hillary Clinton has contacted Netanyahu and Middle East peace envoy Tony Blair during the past days, a U.S. State Department spokesman said. George Mitchell, the U.S. special envoy to the peace talks, is to arrive in Jerusalem Tuesday to seek ways to break the deadlock.
Abbas's visit to Paris comes after Palestinian and Israeli negotiators met in Washington earlier this month to work on resuming direct peace talks to within a year end the decades-old conflict in the region.