Citizens march to save Beirut's architectural identity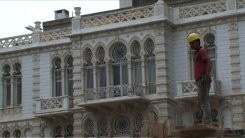 Around 150 Lebanese men and women marched late Saturday in Beirut's downtown area to pay homage to the memory of the old buildings and houses that used to represent Beirut's heritage and protest against further destruction.
"We are walking today holding candles hopefully to shine light on the damage being done to Beirut's old heritage," said Alfred Cochrane, one of the participants. His family owns several Ottoman-era mansions in Beirut.
The march took place in the old neighborhood of Gemmazyeh, where old houses are being destroyed to make way for modern buildings.
According to the organizers "every one of those houses which are being destroyed has a story to tell."
"By demolishing those old houses they are destroying our memories," Cochrane said.
The Association for Protecting Natural Sites and Old Buildings in Lebanon, APSAD, is waging a campaign to create awareness about the city's fading architectural heritage, which is being destroyed and replaced by Dubai-style skyscrapers.
"Beirut used to be a city of gorgeous mansions and gardens and now it has become a boring heap of high-rises and construction projects," said Yvonne Sursock Cochrane, 88, founder of the Association for Protecting Natural Sites and Old Buildings in Lebanon (APSAD).
"We are destroying old houses which in other countries no one would dare touch," Cochrane, whose family owns one of Beirut's most beautiful Ottoman-era mansions, told AFP.
Of 1,200 old mansions and buildings inventoried in 1995 by the culture ministry, a mere 400 are left, officials say.
APSAD has been calling on the government to reform several old laws to protect and support the owners of traditional houses and buildings.
"The government should help finance the maintenance of historical districts in order to safeguard the historical image of Beirut," Pacsal Ingea, one of the organizers of the march, said.
Ingea wore a white T-shirt saying: "Save Beirut's Heritage."
He stressed that Beirut should maintain its historical image and that laws should limit high rises to areas in direct need of urban development.
Most of Beirut's old houses have already destroyed in the 1975-1990 civil. Demolition of old houses and building is becoming a daily sight in the city, whose skyline bristles with building cranes.
The resulting high rise modern flats are being built and sold for millions of dollars to Arab businessmen and Lebanese expatriates.
A recent United Nations Development Program report said that in the next decade, 300,000 new buildings will be added to Beirut's already-crowded urban fabric.
The report added that the city will be left with virtually no public spaces or natural green areas.
Politicians
Architect Fadlallah Dagher, a member of APSAD, said given that many of Lebanon's politicians also dabble in property, it should come as no surprise that draft legislation to protect the country's architectural heritage has been sitting in parliament for eight years.
"It's no secret in Lebanon that a lot of politicians are in real estate and have no interest to safeguard old homes," Dagher said, sitting in his family villa in Beirut's traditional neighborhood of Gemayzeh.
"Where there is land, there is money to be made," he added. "I was once told by real estate developers not to meddle in their affairs and to go elsewhere if I was looking for culture."
Culture Minister Salim Wardy, who recently set up a hotline for people to report threatened buildings, acknowledged that he had come under intense pressure by politicians and developers to take bribes and turn a blind eye to the destruction.
"We're simply trying to preserve the identity of our city," he said. "We're trying to save what is left."
AFP/ DPA