Ahmadinejad wants Lebanese to unite behind Hezbollah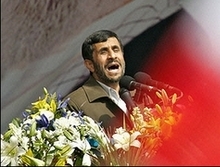 "The enemies have no choice but to surrender and back down in the face of Lebanese groups' resistance," Iranian President Mahmoud Ahmadinejad told his Lebanese counterpart Michel Suleiman in New York late Friday.
President Ahmadinejad lauded the resistance of Lebanese groups against Israel.
The Iranian president underlined that the Lebanese Army's stiff resistance against Israel has 'upset many equations' to the benefit of Lebanese resistance groups and regional nations.
He said Israel seeks to sow discord among Lebanese and Palestinian groups.
The Lebanese groups will indubitably bring about Israel's defeat by remaining united, President Ahmadinejad said.
The Lebanese president, in turn, hailed Iran's role in ensuring regional peace and security.
Suleiman pointed out that Tel Aviv seeks to fuel sectarian and intra-group divisions, and added "such moves by the Israeli regime have made closer cooperation and coordination between the Iran and Lebanon more necessary."
The two presidents also discussed the latest regional developments and underlined that enhancement of Iran-Lebanon cooperation will serve the interests of both nations and the Middle East region.
Iran's Press TV