Bassil: Geagea is isolating Christians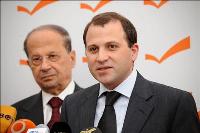 The Free Patriotic Movement snapped back at Lebanese Forces leader Samir Geagea by accusing him of calling for "isolation and confinement."
"This is an invitation for political murder," Energy Minister Jebran Bassil told An Nahar daily in response to Geagea's appeal to FPM supporters to return to the founding principles of the movement and hold onto them.
"He is choking Christians with his confinement and isolation," Bassil said about Geagea upon his return with FPM chief Michel Aoun from Damascus. "He can't address those who are trying to spread in the east and urge them to isolate themselves."
"FPM members will never adopt this policy," Bassil told the newspaper.
About Geagea's statement that the LF and the FPM had struggled together, the minister said: "We weren't struggling with Geagea. He was killing us and killing the FPM youth along with (Syria's former intelligence chief in Lebanon) Ghazi Kanaan."
Naharnet