Hezbollah undecided on cooperation with Hariri Tribunal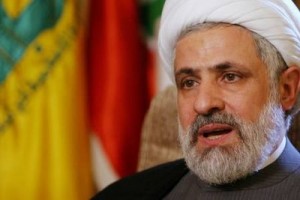 The Special Tribunal for Lebanon wants again to question people linked to Hezbollah, but the party has not decided whether to cooperate, the group's deputy chief Sheikh Naim Qassem has said.
In an interview published on Friday, Qassem said: "Yes, there was a new request after the month of Ramadan to (question) people who could be linked to Hezbollah in one way or another."
"But we have not taken any decision on the matter for now," Al-Afkar magazine quoted him as saying.
In March, Hezbollah leader Sayyed Hassan Nasrallah confirmed that investigators from the Special Tribunal for Lebanon (STL) had interrogated members of his party.
Then in July, he claimed that the tribunal, set up three years ago in line with a U.N. Security Council resolution, was likely to indict members of his armed group.
Nasrallah made clear that his party would not go along with any such decision by the tribunal which he has slammed as biased and part of an Israeli plot.
Qassem did not say whether the latest STL request was to interview people already questioned, new people or a combination of both.
A war of words between Prime Minister Saad Hariri's camp and Hizbullah, largely related to the U.N.-backed probe, has escalated in recent weeks, raising fears of renewed sectarian violence.
Hariri's Western- and Saudi-backed coalition has accused Hizbullah of wanting to bring the court down.
For its part, the party, which is backed by Syria and Iran, has accused those close to Hariri of having "manufactured" evidence to implicate Damascus in the assassination.
Last Saturday, in a show of force, Hizbullah bodyguards escorted from Beirut airport the former head of the country's General Security Department, Maj. Gen. Jamil Sayyed, who has been sought for questioning by State Prosecutor Saeed Mirza over recent remarks against PM Hariri.
The Hariri camp branded the airport incident as an "invasion."
Asked about this by Al-Afkar, Qassem said the Hizbullah members who went to meet Sayyed were accompanied by "their bodyguards," adding that "what happened at the airport was totally normal."
Sayyed was held for four years without charge in connection with Hariri's murder. Earlier this month, he accused the current premier of selling his father's blood in order to frame Syria for the killing.
Naharnet