Aoun visits Syria with Family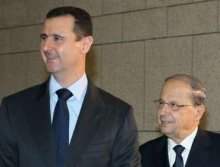 Free Patriotic Movement leader MP Michel Aoun traveled to Syria on Friday with his family. An earlier report in the Ad Diyar newspaper said that he is scheduled to meet with Syrian officials.
A former army chief, Aoun, 73, was forced into exile after being defeated in a Syrian offensive in 1990 at the end of Lebanon's 15-year civil war.
He had declared a "war of liberation" against enemy forces.
Aoun returned in May 2005, a month after Damascus ended 29 years of military domination in Lebanon. Aoun's first visit to Syria following his return was in December, 2008, which he called "a friendly and introductory visit."