Hezbollah official: What happend at the airport is normal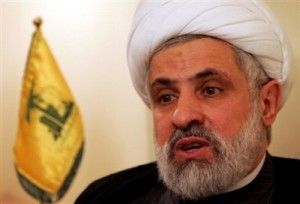 Hezbollah Deputy Secretary General Naim Qassem told Kuwaiti newspaper Al-Rai in an interview to be published on Thursday that what happened on Saturday at Beirut's Rafik Hariri International Airport was normal. It "was to stop some parties from taking advantage of the Lebanese judiciary."
Tension between the Future Movement and Hezbollah ran high after armed Hezbollah bodyguards received former General Security chief Jamil as-Sayyed who is wanted by the Lebanese judiciary at the VIP launch of Beirut's Rafik Hariri International Airport without the needed permission from the ministry of Foreign affairs .
Sayyed, who had just returned from France, was summoned by Attorney General Judge Said Mirza for questioning following the former's September 12 statement, in which he attacked Hariri. Hezbollah on Friday called for the judiciary to revoke the summons.
"What happened was normal. A number of political figures were at the reception, and they have bodyguards. Therefore, this was nothing unusual," Qassem told the daily, adding, "To us, we are showing our solidarity with Sayyed. This is what it was. Whoever wants to explain it differently, let them."
The Hezbollah official also said that following Sayyed's criticism of Prime Minister Saad Hariri on September 12, " March 14 figures could have easily responded with their criticism rather than insult Sayyed ."
STL
Qassem stressed on Wednesday that the party has not yet voiced its final position over the Special Tribunal for Lebanon as it is still waiting the Saudi efforts that are aimed at thwarting its politicization and the issuing of an "unjust indictment."
He said that his party believes in the need to guard civil peace and support the national-unity government."Our goal is to build state institutions based on cooperation, but there are pending issues such as STL and Israel's hand in it."
Hezbollah had to take a clear position on Lebanon's funding for the STL, he said, adding, "The one thing we want in Hezbollah is not to have the court become a tool in the hands of the US administration and not be politicized."
Qassem touched on the recent contacts made by Speaker Nabih Berri and Progressive Socialist Party leader MP Walid Jumblatt to bring Hariri and Hezbollah Secretary General Sayyed Hassan Nasrallah together, saying, "Talks are ongoing, but there is nothing specific."
"We consider the false witnesses file the key to settling this issue and since everyone has agreed that they are a problem, then why are our demands considered so impossible to fulfill?" he asked.