Syria: Airport incident greatly damaged Hezbollah's image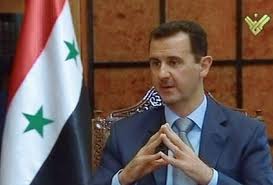 Al-Hayat newspaper on Tuesday quoted a source as saying that Damascus is very worried about Saturday's airport incident, adding that it has greatly damaged Hezbollah's image as well as that of its allies.
Tension between the Future Movement and Hezbollah ran high after armed Hezbollah bodyguards received former General Security chief Jamil as-Sayyed who is wanted by the Lebanese judiciary at the VIP launch of Beirut's Rafik Hariri International Airport without the needed permission from the ministry of Foreign affairs .
Sayyed, who had just returned from France, was summoned by Attorney General Judge Said Mirza for questioning following the former's September 12 statement, in which he attacked Hariri. Hezbollah on Friday called for the judiciary to revoke the summons.
The source also told the daily that "such external concern will put pressure on Lebanese parties to foster calm and to adhere to the Saudi-Syrian rapprochement."
Syrian President Bashar al-Assad, Saudi King Abdullah bin Abdel Aziz and President Michel Suleiman held a meeting in Baabda on July 30 in a bid to defuse political tension following Hezbollah Secretary General Sayyed Hassan Nasrallah's speech calling the Special Tribunal for Lebanon (STL) an Israeli project designed to target Hezbollah by stirring up sectarian strife in the country.
Sayyed along with 3 other generals was detained from 2005 to 2009 on suspicion of involvement in former PM Rafik Hariri's murder. In April 2009, the Special Tribunal for Lebanon (STL ) ordered their release without charges due to insufficient evidence. STL prosecutor made it clear at the time they were set free that their release did not mean they are Innocent and that once more evidence is available they could be back in jail.