March 14: Remaining silent over airport incident is another crime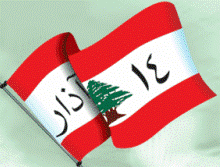 The March 14 General Secretariat stressed on Wednesday after its weekly meeting that remaining silent over "the other team's invasion of the Rafik Hariri International Airport" is another crime.
"Hezbollah invaded Beirut's Rafik Hariri International Airport on Saturday with armed militia groups," adding that " the March 8 alliance's attempt to stage a coup has reached a climax." The statement said.
The statement added : "The other team's crisis has reached its peak and another dead-end in that it is placing the state and all its legitimate institutions before a test for existence."
It demanded the concerned authorities to go through with the legal procedures against former General Security chief Major General Jamil al-Sayyed "in order for them to maintain their credibility and in accordance with the law and constitution."
"Going back on any of these measures will confirm the victory of the militia mentality over that of the state," the statement continued.
It described the current dispute as a fateful one between those who want the rise of the state and others who don't, rejecting claims that it is a sectarian conflict.
Tension between the Future Movement and Hezbollah ran high after armed Hezbollah bodyguards received former General Security chief Jamil as-Sayyed who is wanted by the Lebanese judiciary at the VIP launch of Beirut's Rafik Hariri International Airport without the needed permission from the ministry of Foreign affairs .
Sayyed, who had just returned from France, was summoned by Attorney General Judge Said Mirza for questioning following the former's September 12 statement, in which he attacked Hariri. Hezbollah on Friday called for the judiciary to revoke the summons.