Jumblatt: If no deal on STL , we're going to hell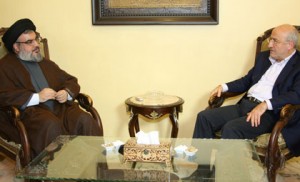 Progressive Socialist Party ( PSP) leader MP Walid Jumblatt warned that Lebanon is witnessing "systematic deterioration.
He made his remarks during an interview with As-Safir newspaper.
Jumblatt said he had dispatched Cabinet Minister Ghazi Aridi, a PSP member to meet with Hezbollah chief Sayyed Hassan Nasrallah.
He said Aridi conveyed a "positive message" from Nasrallah to Prime Minister Saad Hariri, but declined to disclose its contents. But according to As Safir Jumblatt sounded optimistic …. He said that his 'attempts to bring Hezbollah Secretary General Sayyed Hassan Nasrallah and Premier Saad Hariri together were fruitful.'
"We have reached a regrettable situation. Truly it is a strange situation; and the country is witnessing systematic deterioration with the political rhetoric that will have an impact on security, politics and lives of the people and their morale," Jumblatt said.
"Many (people) are seriously wondering whether they should stay or leave" the country, Jumblatt said.
"We – Lebanese people and leaders — must come out with a unified position to face the indictment and prevent its destructive impact," Jumblatt cautioned.
"Enough arrogance," he urged. "We now need more than ever to confront fanaticism before it hits everyone and before it is too late."
"We are all responsible for the country," Jumblatt said , hailing Hariri for his September 6 remarks to As-Sharq al-Awsat newspaper in which he admitted he made a mistake in rushing to accuse Syria of involvement in his father's assassination.
"It was a huge step toward safekeeping peace." He said
But Jumblatt said the counter-attack was not justified at all.
" Sayyed's attacks are unjustified at all," the PSP leader said.
"Clearly, they have been caught in the trap, and we have already warned of being dragged into discord," he added.
Jumblatt reiterated his call for an end to the political rhetoric which led to May 7.
He said there are certain parties within the majority March 14 alliance that "do not want ties with Syria or reach joint agreements."
"And without a multiparty agreement on the Tribunal or the indictment, we're going to hell," Jumblatt concluded.
Tension between the Future Movement and Hezbollah ran high after armed Hezbollah bodyguards received former General Security chief Jamil as-Sayyed who is wanted by the Lebanese judiciary at the VIP launch of Beirut's Rafik Hariri International Airport without the needed permission from the ministry of Foreign affairs .
Sayyed, who had just returned from France, was summoned by Attorney General Judge Said Mirza for questioning following the former's September 12 statement, in which he attacked Hariri. Hezbollah on Friday called for the judiciary to revoke the summons.
Jumblatt also told As safir that Hariri's September 6 interview with As-Sharq al-Awsat newspaper—in which the PM said some people misled the Special Tribunal for Lebanon (STL) and ruined Lebanese-Syrian relations—was a huge step toward safekeeping peace.