Phalange: 'army, people, resistance' formula is out
The Phalange Party on Monday responded to the recent events by saying: Hezbollah's weapons are now "unfortunately only pointed towards the [Lebanese] Interior, and this absolves the government" of the Ministerial Statement's "army, people, and Resistance" formula.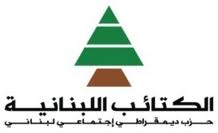 This came in a statement issued after the weekly meeting of its political bureau.
The statement added:
"Therefore, it's impermissible any longer that a state official focus on 'the Resistance' in speeches and statements, especially at the foreign affairs level."
The party called on all political factions to abide by "national unity and respect the State and its institutions, decisions and measures."
Kataeb also urged all parties " to refrain from talking about invasions, coups and civil strife to avoid dragging the country into the unknown."
The party called on "the Lebanese State, through all its institutions, especially the governmental, parliamentary, judicial, military and security authorities, to confront with firmness, courage and wisdom anyone who dares to harm internal security and the prestige of state institutions."
"What is going on these days does not represent a challenge to March 14, March 8 or any political camp, as much as it is a direct challenge to the state authority in particular. Thus, duty calls the State, not anyone else, to speedily shoulder its responsibilities in sparing the country a sectarian strife and preventing the downfall of legitimate institutions and public facilities, such as Beirut's international airport," the statement added.
Commenting on Hezbollah's airport reception thrown for former General Security chief Maj. Gen. Jamil Sayyed, the party said: "What happened in the last few days at the security and judicial levels… is a scary reality that puts the Lebanese entity's unity before an imminent threat, unless all parties, especially those defying the State, abide by the Constitution's approach before it is too late."