Gemayel: Lebanon is facing the test of sovereignty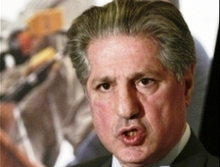 Lebanon's former president and Phalange Party leader Amin Gemayel stressed on Sunday that "if Syria acknowledges Lebanon's sovereignty and special status, some Lebanese must also believe in their independence and sovereignty."
Gemayel 's comment comes after former head of Lebanon's General Security Department Maj. Gen. Jamil Sayyed arrived in Beirut Saturday to a warm welcome from the Hezbollah backed opposition who escorted him home. Sayyed, once again, launched a vehement attack against Prime Minister Saad Hariri, Attorney General Said Mirza, Police Chief Gen. Ashraf Rifi and Detliv Mhelis, former head of the U.N. investigation into the assassination of former PM Rafik Hariri.
Vehicles with Hezbollah gunmen have reportedly welcomed Sayyed at a tarmac at Beirut airport and took him to the VIP lounge that he used without a previous permit from the foreign ministry, in what was described as "an invasion of the airport." MP Okab Sakr told VOL following the arrival of Sayyed at the airport: "Beirut airport was occupied by an outlaw under the protection of groups of outlaws."
"It is in their interest, as well as in Syria's interest, that the relation between the two countries be maintained through the framework of state institutions," Gemayel said, calling on "some to quit bragging about their friendship with Syria at Lebanon's expense."
At the annual dinner organized by Zahle's Kataeb branch, Gemayel added: "Some are pushing the country towards collective suicide, while what we need are collective victory and free life."
"The Lebanese entity is facing the test of unity, and the State is facing the test of sovereignty."
He noted that "liberation turned into a devastating war in 2006, and its arms invaded Beirut in 2008."
"The scheme of impeding institutions is ongoing, as well as the scheme of obstructing the Special Tribunal for Lebanon and the Lebanese Judiciary," he added, warning of "a new scheme" to naturalize Palestinian refugees in Lebanon.
Gemayel voiced his belief that Lebanon "must hold onto Arab consensus," adding that an "individual" peace deal with Israel must not be signed "whatever the pressures."
He said that "a tangible progress, although inadequate, has been achieved in terms of Lebanese-Syrian ties."
"We had appreciated its resistance against the Israel occupation until the year 2000, and we had acknowledged its representation in its sectarian and geographic environment, but Hezbollah must deal with the Lebanese – State, people, army and institutions as a party that is under the law, not as a party that is above all authorities and laws," Gemayel stressed.
As he noted that "Hezbollah's behavior today negatively affect its yesterday sacrifices" and that the party was "insisting on pushing the Lebanese away from it and on making them fear it and question its role," Gemayel urged Hezbollah to "engage in the course of the State and to put its capabilities in the framework of the State and its legitimate institutions."
"Weapons don't scare us, but rather national division, but I promise you that I will exert maximum effort… in order to prevent civil strife," Gemayel addressed the audience. Naharnet