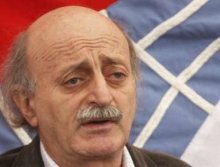 Progressive Socialist Party leader MP Walid Jumblatt on Sunday stressed "the importance of stability and coexistence in preserving the Lebanon of diversity."
He stressed that "there's nothing better than stability which produces development."
He called on his party's partisans to respect the State and laws "at least in our areas."
He added : "Others don't want state rule, we want state rule at any price."
During a meeting held by the PSP for its Chouf area partisans, Jumblatt reminded the audience about the civil war: "When the Israelis, and I stress the Israelis, ignited the spark of civil war in 1975, the war carried on until 1991, one round after another, until we reached peace through the Taef Accord."
He added: "It's true that in some battles we emerged victorious and in others we were defeated. But loss and harm were commonly shared by all the Lebanese and at all levels in Lebanon: We fought and brawled, then we met and reconciled, and we could have done without war."
He also talked about the May 7 event: "Ten days of clashes and tensions, and it was good that madness didn't dominate the minds of some people, some of them of course were overbidding while at their homes, but they didn't engage in a war, or else they would've totally destroyed coexistence."
He is referring to the May 7 , 2008 event when gunmen of a Hezbollah-led alliance occupied the Sunni part of Beirut and tried but failed to occupy the Druze stronghold of Mt Lebanon . More Hezbollah gunmen were reportedly killed during the event than in the 2006 war with Israel.
The event led to the Doha accord.
Jumblatt remarks come after former head of Lebanon's General Security Department Maj. Gen. Jamil Sayyed arrived in Beirut Saturday to a warm welcome from the Hezbollah backed opposition who escorted him home. Sayyed, once again, launched a vehement attack against Prime Minister Saad Hariri, Attorney General Said Mirza, Police Chief Gen. Ashraf Rifi and Detliv Mhelis, former head of the U.N. investigation into the assassination of former PM Rafik Hariri.
Vehicles with Hezbollah gunmen have reportedly welcomed Sayyed at a tarmac at Beirut airport and took him to the VIP lounge that he used without a previous permit from the foreign ministry, in what was described as "an invasion of the airport." MP Okab Sakr told VOL following the arrival of Sayyed at the airport: "Beirut airport was occupied by an outlaw under the protection of groups of outlaws."
This error message is only visible to WordPress admins
Error: No connected account.
Please go to the Instagram Feed settings page to connect an account.