Aridi: Governmental should be able to handle arrest warrant against Sayyed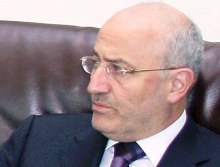 Lebanon's Minister of Transportation and Public Works Ghazi Aridi said on Saturday that the government should be able to handle the arrest warrant issued against former General Security chief Major General Jamil al-Sayyed.
Aridi made his statement following a closed-door political meeting on Saturday with Free Patriotic Movement leader MP Michel Aoun during which he commended the MP for clarifying that he had not called for civil disobedience.
This comes after local reports said Hezbollah is preparing for a huge reception for Sayyed at Beirut's Rafik Hariri International Airport.
Sayyed, a staunch ally of Syria is expected to return to Beirut at about 3:45 pm on Saturday.
Sayyed is a wanted man in Lebanon. Attorney General Judge Said Mirza demanded on Thursday summoning Sayyed for threatening State security and Prime Minister Saad Hariri. According to observers Hezbollah's reception for Sayyed will be viewed as a direct challenge to the the Lebanese authorities ( specially the judiciary and the Internal Security Forces) and if it succeeds ( in its confrontation) it will be viewed as the end to Lebanon's sovereignty.