Mirza: Lebanon JM decided to summon Sayyed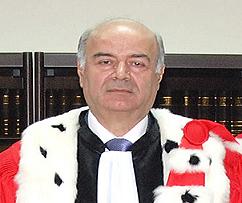 Lebanon Attorney General Said Mirza said it was Justice Minister Ibrahim Najjar's decision to summon former head of Lebanon's General Security Department Maj. Gen. Jamil Sayyed.
"Everything will be in accordance with the law in the event of Sayyed's refusal to appear before the court," Mirza told al-Akhbar newspaper in remarks published Friday.
Meanwhile, judicial sources told Asharq al-Awsat that Sayyed's summoning was now "official" and his recent threats will "not go without prosecution."
Hezbollah issued a statement on Friday saying that Attorney General Judge Said Mirza's request to summon former Sayyed on Thursday was "political par excellence."
Hezbollah called for revoking the judiciary's decision to summon Sayyed for questioning, adding that it should have summoned "those who were bragging that they collaborated with Israel at a certain period of time ." This was in reference to the Phalange party.
Hezbollah's response to the summoning of Sayyed was compared by Future Movement officials to the developments that led to the May 7, 2008 event