Is Hezbollah setting the stage for another May 7 event ?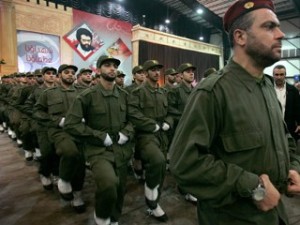 Hezbollah issued a statement on Friday saying that Attorney General Judge Said Mirza's request to summon former General Security chief Jamil as-Sayyed on Thursday was "political par excellence."
"We in Hezbollah consider the decision to be a political decision par excellence and a headline of repression and intimidation to any oppressed speaking about the truth at this stage," the statement said.
This comes after Mirza demanded on Thursday summoning Sayyed for threatening State security and Prime Minister Saad Hariri.
Sayyed said on Sunday said during a press conference that "[Prime Minister Saad Hariri] should take a lie detector test to prove he did not support or fund false witnesses in the Special Tribunal for Lebanon (STL)," investigating the 2005 assassination of ex-Premier Rafik Hariri, and vowed to take his right "with his own hands."
Jamil Sayyed along with 3 other generals was detained from 2005 to 2009 on suspicion of involvement in former PM Rafik Hariri's murder. In April 2009, the Special Tribunal for Lebanon (STL ) ordered their release without charges due to insufficient evidence. STL prosecutor made it clear at the time they were set free that their release did not mean they are Innocent and that once more evidence is available they could be back in jail.
"We also expected judicial authorities to request documents and data announced by Maj. Gen. Jamil Sayyed in his (Sunday's) press conference to look for the truth," the statement said.
Hezbollah called for revoking the judiciary's decision to summon Sayyed for questioning, adding that it should have summoned "those who were bragging that they collaborated with Israel at a certain period of time ." This was in reference to the Phalange party
During a September 8 press conference, Phalange party MP Sami Gemayel said "the Lebanese resistance [during the civil war]… had no choice but to use the devil, [that is Israel] in order to defend itself, [because] it was confronting the Syrian and Palestinian armies." Gemayel drew a parallel between the Phalange party and Iran, which purchased arms from Israel during its war with Iraq in the eighties.
Gemayel said the Phalange party is not ashamed of its history.
Hezbollah criticized
Lebanon First bloc MP Jamal al-Jarrah told LBCI TV on Friday that Hezbollah's reaction to Attorney General Judge Said Mirza's request to summon former General Security chief Jamil as-Sayyed over the latter's Sunday press conference reflects the atmosphere that prevailed during the May 7 events.
He is referring to the May 7 , 2008 event when gunmen of a Hezbollah-led alliance occupied the Sunni part of Beirut and tried but failed to occupy the Druze stronghold of Mt Lebanon . More Hezbollah gunmen were reportedly killed during the event than in the 2006 war with Israel .
" Hezbollah seems to be threatening and making it look like the Lebanese judiciary is not allowed to take any measure against figures who attack it," Jarrah said.hands."
Sayyed lost his nerves
Lebanon First bloc MP Assem Araji told the Voice of Lebanon (VOL) ron Friday that Sayyed should "keep quiet" after his Sunday press conference, adding that the latter "seems to have lost his nerves, which indicates that he is afraid."
"Sayyed is upset by the improved relations between Prime Minister Saad Hariri and Syrian President Bashar al-Assad," Araji said.
During an interview with LBC MP Walid Jumblatt said that Lebanon can do without armed clashes similar to those of May 7, 2008 and the recent remarks of former head of General Security, Maj. Gen. Jamil Sayyed, and Free Patriotic Movement leader MP Michel Aoun "are rejected."