Bellemare to issue indictment against Hezbollah bofore year end, report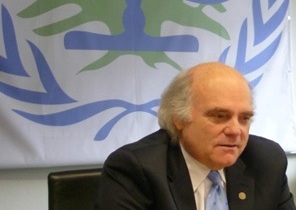 As Safir , the pro-Syrian newspaper that has been very active in leaking information on the Special Tribunal for Lebanon since last June claimed today that STL Prosecutor Daniel Bellemare would issue his indictment before the end of 2010 against Hezbollah members.
It based its report on a French source who is reportedly close to France's permanent representative to the U.N., Gerard Araud. The paper added that Bellemare informed Araud about his decision during a meeting they held last July.
The prosecutor would accuse Hezbollah members of "having a hand in former PM Rafik Hariri's assassination," the source reportedly told the daily.
The daily said the accusation would be based on phone calls made between the killers as evidence. Slain counter-terrorism police officer, Capt. Wissam Eid, was overseeing the investigation into the calls before his assassination two years ago.
Hezbollah was reportedly accused of being  behind Eid's assassination
As Safir report contradicts the statements made by Bellemare during an interview with Now Lebanon at the end of August.
Bellemare confirmed during the interview that all the rumors about the indictments are strictly speculation , since he has not drafted the indictments as of Aug 31, 2010.
"People should remember this: Unless they can read into my brain, everything else is just speculation", Bellemare said.
As Safir reported last July that the indictment against Hezbollah members will be issue starting September 2010