Jouzo: Aoun defends Israeli spies while Hezbollah defends Aoun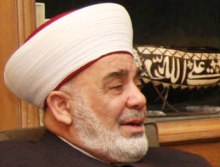 Mount Lebanon Mufti Sheikh Mohammed Ali Jouzo slammed Free Patriotic Movement leader Michel Aoun and Hezbollah on Thursday for attacking security officials and the judiciary.
Aoun "is trying to protect Israel's spies in Lebanon, that's why he has launched a campaign against the (ISF) Intelligence Bureau … which has unveiled the truth behind Fayez Karam, one of the most important FPM cadres," Jouzo said.
"It is strange for Hezbollah to stand idle or to defend the general (Aoun) in his stances," he said.
In a fiery speech on September 5, Aoun criticized the government over the investigation leaks of former Brigadier General Fayez Karam, a senior FPM official who was arrested August 5 on charges of spying for Israel.
Karam was charged with espionage and providing the Jewish state with information on Hezbollah, Aoun's closest ally.
Karam and Aoun went into exile in France following Aoun's defeat by the Syrian army in 1990 and both returned to Lebanon in May 2005 , 11 days following the withdrawal of the Syrian army from Lebanon.
Jouzo also accused Hezbollah of pushing former General Security Department chief Maj. Gen. Jamil Sayyed to attack PM Saad Hariri and other officials in his press conference last Sunday to "obstruct the role of the international tribunal."
"Why is Hezbollah afraid of the court if it sure of its innocence?" Jouzo wondered.