Assad asked Hariri to resolve issue of false witnesses, report
Syrian President Bashar Assad was reportedly disappointed at PM Saad Hariri for not seeking to adopt a government decision to refer the issue of false witnesses to the Lebanese judiciary.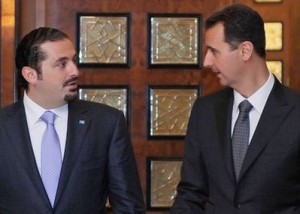 The pro-Syrian Al-Akhbar newspaper said Thursday that Assad asked PM Hariri during their last meeting in Damascus on August 30 for "an official and honest stance from false witnesses."
However, Hariri only admitted to Asharq al-Awsat newspaper that false witnesses had misled the investigation into his father's assassination.
While Assad welcomed the Lebanese PM's acknowledgment that it was a mistake to accuse Syria of killing Former prime Minister Rafik Hariri, Assad was frustrated at a lack of an official stance over the issue of false witnesses, al-Akhbar said.
According to the al-Akhbar, Assad warned Hariri during their meeting that the Syrian judiciary would issue arrest warrants in absentia against several Lebanese personalities who have been summoned to Damascus to stand trial unless the premier resolves the issue.
"Maybe there has been political pressure, but I can't prevent the Syrian judiciary from issuing the arrest warrants," al-Akhbar quoted Assad as telling Hariri.
The study of the false witnesses issue has reportedly been completed, An-Nahar newspaper said Tuesday.
An-Nahar said Lebanon Justice Minister Ibrahim Najjar has completed the "legal study" on this issue and will present it to Cabinet at its next meeting.
The justice minister, however, declined to disclose the content of his study prior to submission to Cabinet.
According to Ya Libnan legal advisers there is no such a thing as a false witness before indictments are made . Only the courts during the trial can determine whether a witness is for real or false. At this stage no body knows who will be indicted, despite the fact that Hezbollah chief Sayyed Hassan Nasrallah has revealed that some members of the party will be indicted. Such information is not coming from STL …such information is most probably assumptions or extrapolations coming from Hezbollah members that were interrogated by the Investigators. The trials will start after the indictments are made . There are 12 judges , 4 of them are Lebanese .
Many Lebanese legal experts believe that the issue of false witnesses is being used by Hezbollah and its allies to undermine and discredit the Special Tribunal for Lebanon.