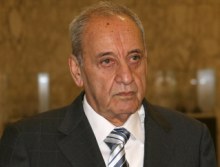 Lebanese Speaker Nabih Berri  was quoted on Wednesday by An-Nahar newspaper as saying that the Saudi-Syrian rapprochement to ensure stability in Lebanon was not harmed, adding that all disputes between political parties will eventually be resolved.
"Eventually things will be straightened out," Berri  said.
He is referring to the visit of  Saudi King Abdullah bin Abdel Aziz and Syrian President Bashar al-Assad  to  Beirut last July during which they  held a  summit meeting with President Michel Sleiman in an effort to defuse tension in the country following Hezbollah Secretary General Sayyed Hassan Nasrallah's July statement that the Special Tribunal for Lebanon (STL) is an Israeli project designed to target Hezbollah by stirring up sectarian strife in Lebanon.
According to an unnamed source, disagreements between Lebanese parties will be addressed in next week's cabinet session.
The source also said that the speaker will work with Suleiman to try and "cool down the situation" in the country.
Tension is high in Lebanon following reports that the STL will soon issue its indictment into the 2005 assassination of former Prime Minister Rafik Hariri.
Special Tribunal for Lebanon( STL)  prosecutor Daniel Bellemare confirmed during an interview last month that all the rumors about the indictments are strictly speculation , since he has not drafted the indictments as of Aug 31, 2010.
"People should remember this: Unless they can read into my brain, everything else is just speculation", Bellemare said.
The pro-Syrian As Safir newspaper started the rumor about the indictment and wrote last July that STL will indict over 20 Hezbollah members between September and December of 2010 .
Hezbollah chief Hassan Nasrallah accused Israel of being behind the murder of Hariri and said he  has the evidence to prove it.
Bellemare  urged Hezbollah to provide the   evidence that its chief said he possessed, but so far his request has been ignored .