Kuwait moves to calm Sunni-Shiite tension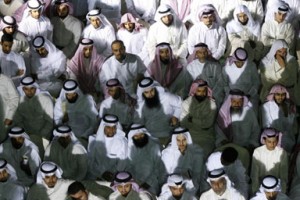 The Kuwaiti government vowed on Tuesday to take legal measures to curb growing sectarian tensions between Sunni and Shiite Muslims following inflammatory remarks made by a Shiite activist in self-imposed exile.
"The government is serious in its legal measures necessary to curb (sectarian) tensions," communications minister and government spokesman Mohammad al-Baseeri told reporters after meeting the parliament speaker.
He declined to provide details amid calls by Sunni Islamist lawmakers that the Kuwaiti activist must be extradited or his citizenship be withdrawn.
Sectarian tensions in this oil-rich Gulf state flared after Yasser al-Habeeb, who has been living in London since 2004, made disparaging remarks against the Prophet Mohammed's wife, Aisha.
Habeeb, who fled Kuwait to escape two 10-year prison terms for abusive remarks about Islam's first two caliphs, held a ceremony to celebrate the death anniversary of Aisha at his London office two weeks ago at which he made the remarks, according to video on his website.
The comments sparked a wave of condemnation by Sunni Islamists who urged the government to seek Habeeb's extradition or withdraw his citizenship, while Shiite MPs also called for similar action against Sunni activists critical of Shiism.
A number of Sunni Islamist MPs threatened they would grill either the prime minister or the interior minister if the government failed to take action.
Sunni activists also held a huge public rally late Monday to press their demands.
Parliament speaker Jassem al-Khorafi on Tuesday appealed for restraint and called on MPs to stop issuing statements which incite "disputes and discord."
Shiites make up about one third of the Kuwaiti population of 1.1 million people. They have nine members in the 50-seat parliament and two members in the emirate's 16-member cabinet.