Pastor Terry Jones suspends Qur'an burning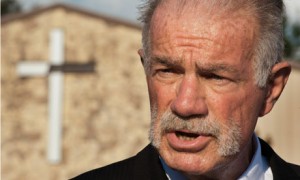 The Florida pastor who threatened to burn copies of the Qur'an has said he has only "suspended" the event because he was "lied to" over a deal to call it off in exchange for a promise to move a planned Islamic centre away from Ground Zero in New York.
The extremist preacher appeared to have backed down in the face of condemnation by Barack Obama, the Pentagon, the state department and international outrage, but then backtracked.
Speaking outside his Dove World Outreach Centre church in Gainesville, Florida Terry Jones said: "As of right now, we are not cancelling the event, but we are suspending it."
The confusion over whether the event will take place has done little to quell the global outrage at the prospect of burning of the holy book of Islam. Around 10,000 Afghans took to the streets chanting anti-US slogans in a protest today in the province of Badakhshan – the largest demonstration so far.
The Afghan president, Hamid Karzai, expressed hope Jones would not proceed.
"The Qur'an is in the hearts and minds of all … Muslims but the affront against the holy book is a humiliation to the people," Karzai told reporters at his palace after prayers. "We are hopeful that he gives up this affront and should not even think about it."
The president of Indonesia, home of the world's largest Muslim population, called on the US to ensure that no burnings took place.
"I continue to urge the government and the people of the United States to ensure the prevention of such an incomprehensible, irrational and immoral act," Susilo Bambang Yudhoyono said in a speech.
Jones claimed he was not bowing to the pressure from the White House and abroad but had taken the decision because of the agreement. However, it emerged last night that Robert Gates, the US defence secretary, had phoned Jones and asked him not carry out his threat.
Jones also claimed he was planning to fly to New York to discuss the proposed cultural centre's new location with the New York imam Feisal Abdul Rauf.
But the imam, in a statement issued last night, said he had not spoken to Jones.
"I am glad that Pastor Jones has decided not to burn any Qur'ans. However, I have not spoken to Pastor Jones," he said. "I am surprised by their announcement. We are not going to toy with our religion or any other. Nor are we going to barter."
There was a collective sigh of relief worldwide as Jones announced at a press conference that he was dropping his plan to set fire to 20 copies of the Qur'an. The burning had been planned to coincide with the ninth anniversary tomorrow of the 9/11 attacks on New York and Washington.
Interpol, the Pentagon and others warned that such an act would provoke violent acts around the world by outraged Muslims. There were protests in Pakistan, Afghanistan and other Muslim countries yesterday at the proposed burning.
As tensions mounted, claims emerged from Germany that Jones was dismissed from a church he founded there after accusations that he mistreated his followers.
Jones showed signs of being unnerved by the mounting pressure on Wednesday and hinted at a climbdown. In an interview with USA Today, he said he was rethinking the plan and would do so more seriously if Obama or anyone else from the government was to approach him directly.
But the White House refused to contact him directly, suggesting that if the president engaged with a pastor with a flock numbering about 30, copycats might be encouraged. Interviewed on breakfast TV yesterday before the cancellation, President Obama spoke of "a recruitment bonanza" for al-Qaida. "This could increase the recruitment of individuals who would be willing to blow themselves up in American cities or European cities," he told ABC's Good Morning America show.
The only unresolved issue is Jones's claim of a deal with Muslims in New York. Jones told reporters: "The imam has agreed to move the mosque, we have agreed to cancel our event on Saturday." He was accompanied by Imam Muhammad Musri, head of the Islamic Society of Central Florida. He added: "I, with [Musri], will be flying up [to New York] on Saturday to meet with [Feisal Abdul Rauf] at the Ground Zero mosque."
He insisted that Musri had guaranteed the Islamic centre would be moved. "I asked him three times, and I have witnesses," Jones said. "If it's not moved, then I think Islam is a very poor example of religion. I think that would be very pitiful. I do not expect that."
The Pentagon's fear was that the burning of Qur'ans could result in retaliatory attacks on US soldiers serving in Afghanistan, Iraq and elsewhere.
Interpol earlier yesterday issued a blunt warning that "violent attacks on innocent people would follow" if the stunt went ahead.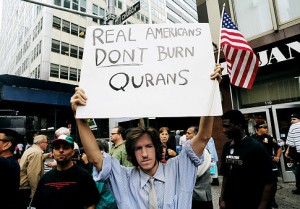 In Pakistan, protesters burned an American flag and displayed a sign in English reading: "If Qur'an is burned it would be beginning of destruction of America."
Sarah Palin linked the threat to the plan to build a mosque near the site of the World Trade Centre attack. "People have a constitutional right to burn a Qur'an if they want to, but doing so is insensitive and an unnecessary provocation – much like building a mosque at Ground Zero," she wrote in a Facebook message.
Meanwhile, reports emerged yesterday of Jones's mission in Germany, where he established the Christian Community of Cologne in 1982 after having "received a sign from God". However, when Jones left Cologne 26 years later, it was as a disgraced preacher who had allegedly forced members to give him a percentage of their earnings, made them work for little or no money and caused the breakup of families and friendships. He reportedly also faked a title as doctor of theology, for which he was fined, and was eventually dismissed by the church board in 2008.
Andrew Schäfer, an official sect monitor for the Protestant church in the Rhine region, who has closely observed the activities of the community, said Jones had "enormous manipulative potential" and believed his failure in Germany had led to his increased desire to achieve notoriety in Florida. "He has clearly not been able to cope with the immense loss of his power and significance," said Schäfer.
Among the numerous reports of the ways in which Jones used to manipulate members were demands for money, as well as complete commitment to the community. Members were reportedly made to work in the community's "Lisa Jones" shops, named after his first wife, which sold secondhand clothes and furniture. They apparently worked long hours, lived on next to no wages, and had no health insurance – a requirement all German employers have to fulfil. They were forced to review relationships with family and friends and in some cases to break up with partners. Guardian