Mufti Qabbani rejects use of arms to solve Lebanon problems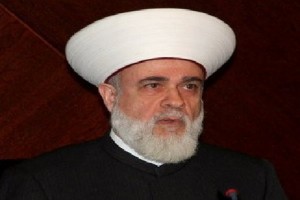 The Grand Mufti of the Lebanese Republic Sheikh Mohammed Rashid Qabbani said during Eid al-Fitr prayers on Friday that arms used in streets and alleyways have no legitimacy.
"It is unacceptable to resort to weapons to solve our problems … and for arms to be the arbiter in solving our problems," Qabbani said at al-Amin mosque in downtown Beirut.
"I say it out loud and clear . There is no legitimacy to arms used by a Lebanese against another Lebanese … and used in streets and alleyways," he told believers, including MPs and cabinet members.
Qabbani's remarks are in reference to the clashes in the Beirut neighborhood of Borj Abi Haidar on August 24 between supporters of the the pro-Syrian Association of Islamic Charitable Projects—also known as Al-Ahbash—and the Iranian backed Hezbollah militants , leading to the death of three people, including Hezbollah official Mohammad Fawwaz.
"There is no legitimacy to any weapon that is not targeted against the Israeli enemy," Qabbani said, adding that bickering among Lebanese threatens national unity.
He called for "unity to defend our dignity" and hailed Prime Minister Saad Hariri who sought to end strife.