ISF responds to Aoun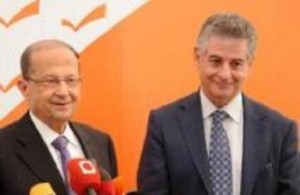 Lebanon's Internal Security Forces (ISF) issued a statement on Thursday in response to to criticisms by Free Patriotic Movement leader MP Michel Aoun.
"Some politicians launched a campaign against the ISF – Information Branch regarding the arrests of several Israeli collaborators, and tried to defend Karam by questioning the legitimacy of the Information Branch," the ISF statement said.
"All ISF officers are carrying out their tasks under the supervision of Public Prosecutions and Karam confessed that he was collaborating with Israel in the past years," the statement added.
The ISF questioned the motives behind the criticisms, saying that many others were detained on similar charges but the ISF was not criticized for arresting them, as in Karam's case.
Aoun's criticism comes as a possible reference to the ISF ' s early August arrest of retired Brigadier General Fayez Karam – a senior FPM official – on charges of spying for Israel. Aoun has repeatedly condemned authorities over the issue of leaks to the media on the investigation.
Karam was charged with espionage and providing the Jewish state with information on Hezbollah, Aoun's closest ally.
Karam and Aoun ( photo) went into exile in France following Aoun's defeat by the Syrian army in 1990 and both returned to Lebanon in May 2005 , 11 days following the withdrawal of the Syrian army from Lebanon.
in a fiery speech last Sunday Aoun claimed that the ISF-Information Branch is an "illegitimate branch that has no law, kidnaps people for months and spreads rumors about them."
Baroud unhappy about the statement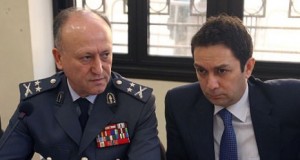 Interior Minister Ziad Baroud and Internal Security Forces chief Maj. Gen. Ashraf Rifi were at loggerheads on Friday after the ISF issued the statement without prior approval by Baroud.
Baroud said Thursday that he did not give approval to the statement issued by the ISF defending its Information Bureau and claimed the statement was beyond the ISF's prerogatives.
"The issue is tied to principles and to the work of institutions, whose role I am keen on (preserving)," Baroud said.
Aoun also attacked Baroud in his speech and accused him of being "asleep ".
Baroud responded last Tuesday by saying he was "asleep" because there was no electricity. The minister was referring to continued power rationing in the country. Electricity Minister Gebran Bassil is Aoun's son-in-law, and according to energy analysts the blackouts in Lebanon have increased ever since Bassiltook over the ministry.