Florida pastor reconsidering 'canceled Quran burning'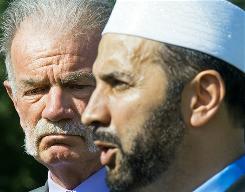 Florida preacher Terry Jones called off, then reconsidered going ahead with his plan to burn copies of the Quran on Sept. 11.
Thursday afternoon, Jones said he was swayed by a call from Defense Secretary Robert Gates and the promise of a face to face meeting with the Muslim leader behind a planned mosque near Ground Zero.
Later that day, he accused another Muslim leader of lying to him with a promise to relocate an Islamic center and mosque near Ground Zero.
Jones' plan to burn Qurans had outraged Muslims, and he had been pressured by many, including President Obama, to cancel the plan.
On Thursday, Jones met with Imam Muhammad Musri ( photo), president of the Orlando-based Islamic Society of Central Florida, and the two held a joint news conference in which Jones said, "We have agreed to cancel our event on Saturday." Jones said he will spend the anniversary of 9/11 flying to New York to meet with Imam Feisal Abdul Rauf, the man behind the planned mosque and cultural center.
Jones also said he cancelled the event after striking a deal to relocate the mosque, but backers of the mosque said there is no such deal. "I am glad that Pastor Jones has decided not to burn any Qurans," Rauf said Thursday. "However, I have not spoken to Pastor Jones or Imam (Musri)."
Musri also later told the Associated Press that no deal had been reached. He said that he had offered only a meeting between Jones, himself and Imam Rauf.
Later Thursday, Jones said Musri "clearly, clearly lied to us."
"Given what we are now hearing, we are forced to rethink our decision," Jones said. "So as of right now, we are not canceling the event, but we are suspending it." Jones did not say whether the burning could still be held Saturday.
Earlier Thursday, Jones said he was influenced to cancel the burning by a call from Gates. "He encouraged us not to continue," Jones said. Pentagon press secretary Geoff Morrell confirmed the call.
Meanwhile, the Westboro Baptist Church of Topeka, which has been criticized for protests at the funerals of U.S. servicemembers, said Thursday night that it will burn the Quran and a U.S. flag Saturday, although specifics had not been ironed out.