Lebanon MP: Hariri has proven himself to be a true statesman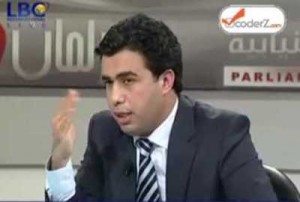 Prime Minister Saad Hariri has proven himself to be a true statesman that refuses to use the testimonies of the false witnesses of the Special Tribunal for Lebanon (STL) to accuse Syria of the 2005 assassination of former PM Rafik Hariri, MP Okab Sakr a key member of March 14 parliamentary bloc told New TV on Monday
In his first remarks to the media following his last meeting with Syrian President Bashar Assad, Hariri said in an interview with As-Sharq al-Awsat published on Monday that the accusations that Syria was behind his father's (Rafik Hariri) murder were political in nature.
"We assessed mistakes that we made and that harmed the Syrian people and ties between the two countries," the PM told the newspaper and added:"At a certain stage we made mistakes and accused Syria of assassinating the martyred premier. This was a political accusation."
Some people misled the STL's investigation and thereby damaged Syrian-Lebanese relations and politicized the assassination, Hariri also told the daily.
"One has to assess (events) in previous years so that past mistakes are not repeated," Hariri said.
Sakr added that Hariri has also rejected using the issue of the STL's false witnesses to harm the tribunal.
"We must know who protects the false witnesses and who helps them appear in the media," the MP also said.
The cabinet asked Justice Minister Ibrahim Najjar on August 18 to follow up on the issue of the tribunal's false witnesses.
During an iftar on Monday in honor of social and cultural figures Hariri stressed : "Responsibility requires us to be on a high degree of humility and be as close as possible to the people."
He added: "We as officials in the State should act responsibly, and I, in my authority as Prime Minister of all Lebanon, also have to act responsibly."
STL
STL was formed to try the killers of Lebanon's former PM Rafik Hariri and the related crimes .
No one yet knows who will be indicted in Hariri's murder. Daniel Bellemare the prosecutor of the Tribunal reacted to the recent rumors about the indictment by saying: People should remember this: "Unless they can read into my brain, everything else is just speculation".
As Safir newspaper started the rumor about the indictment and wrote last July that STL will indict over 20 Hezbollah members between September and December of 2010 . But Bellemare stressed last week that he has not yet drafted the indictment and urged Hezbollah to provide the additional evidence that its chief said he possessed. Hezbollah chief Hassan Nasrallah accused Israel of being behind the murder of Hariri and said has the evidence to prove it.