Geagea:The conflict is between the logic of state and statelessness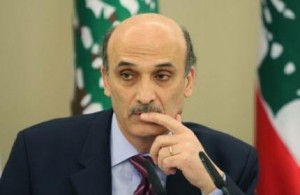 Lebanese Forces leader Samir Geagea told a visiting delegation from the a Zahle University that the latest events in Lebanon are the result of a conflict between the logic of the state and the logic of statelessness.
The logic of statelessness and lack of institutions is reflected by demands for chaos in the country, Geagea said and added :The logic of the statelessness is also expressed through illegitimate military authority, such as during the recent Beirut clashes, he added.
His comment may be a possible reference to the bloody street battle that shook the Borj Abi Haidar neighborhood in the Lebanese capital on August 24, pitting supporters of the Iranian backed Hezbollah against the pro-Syrian Al-Ahbash militants —also known as the Association of Islamic Charitable Projects. 3 people were killed in the clash including a Hezbollah senior official.
March 14 leaders including PM Saad Hariri called for a weapons-free Beirut, but Hezbollah and its all General Michel Aoun rejected the idea
The weapons "serve other interests. " Geagea told a delegation from Jbeil last Friday
"As far as we know the resistance should be in occupied territories. Is Beirut occupied?" Geagea asked.