At least six killed in a traffic accident south of Beirut
At least six people were killed and 20 others injured on Tuesday in a traffic involving several trucks and other vehicles on the Jiyeh highway, south of Beirut.
A Lebanese soldier was among the dead. The dead and the injured were taken to several hospitals in the region.
The National News Agency (NNA) quoted witnesses as saying that a truck carrying sand hit vehicles, including a transportation van, that had stopped at an Internal Security Forces (ISF ) checkpoint.
A pick-up ( tanker) carrying water also hit an oil tanker truck the witnesses said.
The accident caused heavy traffic on the Sidon-Beirut highway.
Other accidents
– Noha Hasan Suleiman, 65, was injured after a Nepalese UNIFIL vehicle ran her over at Hawla in south Lebanon. She was transferred to Mays al-Jabal governmental hospital for treatment.
– A vehicle hit Madleine Chalhoub, 60, on the Khaldeh highway on Tuesday . She passed away after arriving at the hospital.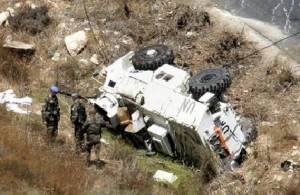 – A French peacekeeper was killed on Tuesday when his vehicle toppled near the southern Lebanese border town of Kfarshouba, AFP reported
UNIFIL military spokesman Col. Naresh Bhatt said the accident occurred while the peacekeeper from a UNIFIL engineering company was performing engineering work for the "safety of the force in the area."
"The circumstances of the accident are under investigation," Bhatt added.
Last month, a French peacekeeper was killed and two others were wounded in a traffic accident in Borj Qalaway.