Bassil, Hezbollah defend Aoun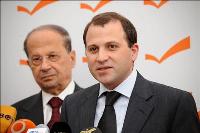 Lebanon Energy and Water Minister Gebran Bassil defended his father-in-law, Free Patriotic Movement leader Michel Aoun, and called for a constitutional amendment to boost the President's powers.
Bassil was responding to reactions that emerged following Aoun's verbal attack on President Michel Suleiman.
"Let those who are defending the President sit together with us and make a constitutional amendment to his (President's) powers," Bassil said in remarks published Tuesday by the daily An-Nahar.
"I wonder where were those who care about the Presidency when we demanded that the President become head of the sovereign fund of oil revenues," Bassil asked. "We did not hear from them any support for the presidency."
Hezbollah also defended Aoun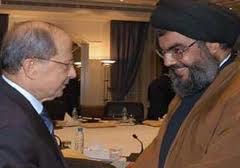 A statement by head of Hezbollah's parliamentary bloc Mohammed Raad said:
"Criticism launched by Gen. Michel Aoun on some issues and practices is in fact a cry of pain issued by an aching official keen to put an end to what could distort the country's image and torpedo plans to revive the system."
Raad added: "We call upon all concerned to deal positively with this call and to give it serious and effective attention in order to tackle the issues calmly and responsibly, and put them on the correct path to strengthen citizens' conviction in the State and make them confident in maintaining their safety, dignity and interests as well as ensuring their rights.
Aoun criticized
Aoun, who attacked the government in a televised speech on Sunday calling for resignations of several ministers was criticized by many political leaders.
Aoun repeatedly condemned in his speech the Lebanese authorities over the issue of leaks to the media on the ( Karam) investigation and attacked president Suleiman
FPM senior official, retired Brigadier General Fayez Karam was arrested last month and charged with espionage and providing the Jewish state with information on Hezbollah, Aoun's closest ally.
Karam and Aoun went into exile in France following Aoun's defeat by the Syrian army in 1990 and both returned to Lebanon in May 2005 , 11 days following the withdrawal of the Syrian army from Lebanon.
Lebanon's Information Minister Tarek Mitri said in a statement issued on Monday:
"At a time when calm and polite speech is especially important, Free Patriotic Movement leader MP Michel Aoun has chosen provocation against the presidency and the government."