An explosion of Hezbollah arms depot rocks south Lebanon
A large explosion rocked a village in southern Lebanon Friday, according to a Lebanese security source.
The explosion took place inside the village of Shehabiyeh , near the border with Israel.
According to a witness, the sounds of further blasts continue to be heard in Shehabiyeh , as ambulances and firefighters were rushing to the area of the initial blast.
Preliminary reports from security sources in southern Lebanon said the house that seems to be the center of the blast belongs to a Hezbollah member and might have been an arms depot.
Hezbollah said the Lebanese army opened an investigation into the Shehabiyeh "fire" and denied any casualties in the blaze
Lebanese army troops are said to have cordoned off all areas leading to the village.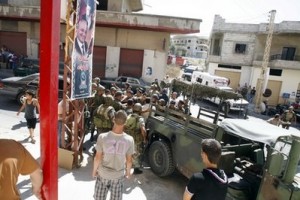 Shehabiyyah is 15 kilometers ( about 10 miles) east of the southern port town of Tyre. The area is under the control of United Nations troops and Lebanese soldiers and is supposed to be free of weapons, in accordance to UN resolution 1701, which ended 33 days of war between Israel and Hezbollah in 2006.
Israel has regularly demanded that the UN investigate several explosions in southern Lebanon last year. Israel argues those blasts prove that munitions were being stockpiled in violation of a truce.
On Friday the Israeli Defense Force (IDF) distributed photos which it said had been taken by an unmanned aerial vehicle (UAV) over the site of the explosion , adding that it was uninvolved in the explosion.
The explosion was reportedly the result of a fire that spread to a building and detonated eight rocket shells, several hand grenades, and two gas containers, Reuters news agency quoted an anonymous security source as saying on Friday.
The IDF said the photos showed that a "very large" amount of explosives had gone off, according to local reports
UNIFIL spokesman Neeraj Singh commented on the incident by saying:" We are coordinating with the Lebanese army and we have sent patrols to the location of the explosion in Shehabiyeh."
Future News reported that at least two people were wounded in the Shehabiyeh explosion.
Firefighters had reportedly extinguished the blaze at the suspected weapons depot as UNIFIL helicopters hovered overhead.
According to VOL the 3-floor building in Shehabiyeh is owned by a man from the Salloum family.
No longer serve Lebanon's interest
Lebanese Forces leader Samir Geagea said today that Hezbollah's arms in their current location and form no longer serve Lebanon's interest.
The weapons "serve other interests. " Geagea told a delegation from the Popular University in Jbeil.
"As far as we know the resistance should be in occupied territories. Is Beirut occupied?" Geagea asked.