Hezbollah chief refuses to cooperate with Hariri Tribunal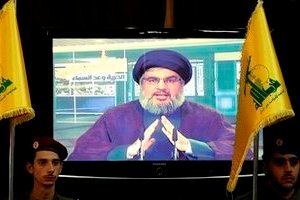 Hezbollah chief Sayyed Hassan Nasrallah delivered a speech via a video link on the occasion of World Jerusalem Day
He used the occasion to attack the direct peace talks between Israel and the Palestinians.
"The revived Middle East peace talks are "born dead". The majority of Palestinian factions rejected such negotiations. ", he said
Nasrallah declared that "Palestine, from the Mediterranean sea to the Jordan river, is the right of the Palestinian people," adding that Jerusalem cannot ever be the capital of a "Zionist entity" that has no legitimacy.
Imam Sadr
Turning to the issue of Imam Moussa Sadr he said :
"We did not take the issue of Imam Moussa Sadr's disappearance to the International Tribunal. We say it out loud: Sadr and his two companions are being held in Libya and they should be released."
"The Lebanese judiciary must shoulder responsibility in the disappearance case of Imam Sadr," Nasrallah added.
Sadr, who disappeared during a visit to Libya 32 years ago, was still alive and being held captive by Libyan leader Moammar Gadhafi, his son Sadreddine Sadr said in an interview that was published Monday by National News Agency.
STL
Turning to the issue of the Special Tribunal for Lebanon (STL) , Nasrallah reiterated that Hezbollah is not concerned with the international tribunal nor with the U.N. probe, and, therefore, will not respond he will not respond to a U.N.- appointed prosecutor's demand for the group to hand over all information relevant to the assassination of former Lebanese Prime Minister Rafik Hariri.
The remarks come more than a week after STL prosecutor, Daniel Bellemare, said that a packet of evidence handed over by Hezbollah was "incomplete," and failed to add anything to what Nasrallah had already disclosed at a news conference last month.
Bellemare also demanded that Hezbollah hand over all information relevant to his investigation, a demand Nasrallah brushed aside on Friday.
Nasrallah said he is ready to cooperate with the Lebanese judiciary and was ready to answer any follow-up questions it might have, but warned that his group would stop such cooperation if it appeared that the Lebanese judiciary's role was simply to be a "post office box" between Hezbollah and the U.N. tribunal.
"It is up to STL Prosecutor General Daniel Bellemare to decide whether to consider Hezbollah's information about potential Israeli involvement in former Prime Minister Rafik Hariri's 2005 murder," Nasrallah said.
He added "Now that the US is withdrawing in defeat from Iraq and Israel is "beset by predicaments," all that is left of the American project is the Special Tribunal for Lebanon (STL), "and I think we can overcome that challenge," Nasrallah said.
Al Ahbash- Hezbollah clash
Turning to the issue of Aug 24 clashes in Borj Abi Haidar between supporters of Al-Ahbash and those of Hezbollah, he said it was "an individual incident that developed in a regrettable way and has no background," he added.
He accused politicians of "blowing the Bourj Abi Haidar clashes out of proportion in order to exploit them" , and said " those who think the incident reflects an Iranian-Syrian dispute are betting on a failed American neoconservative project," Hezbollah Secretary General Sayyed Hassan Nasrallah said on Friday in a speech commemorating World Jerusalem Day.
Hezbollah-Syria and Iran-Syria relations are as strong as ever, he stressed
Explosion at Hezbollah arms depot
Hours before before Nasrallah delivered his speech, a large explosion rocked a village in southern Lebanon , according to a Lebanese security source. The explosion took place at a Hezbollah arms depot inside the village of Shehabiyeh , near the border with Israel.
The explosion was reportedly the result of a fire that spread to a building and detonated eight rocket shells, several hand grenades, and two gas containers, Reuters news agency quoted an anonymous security source as saying on Friday.