Israel and Palestinians resume direct talks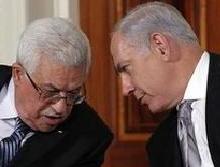 Seeking to broker a Mideast peace agreement that has eluded U.S. presidents for decades, the Obama administration is overseeing the first direct negotiations between Israel and the Palestinians in nearly two years.
After a day and evening in White House talks with President Barack Obama, Israeli Prime Minister Benjamin Netanyahu and Palestinian President Mahmoud Abbas sit down together Thursday for the first of what American officials hope will be a series of meetings that lead in a year's time to an agreement on the creation of a Palestinian state.
"This moment of opportunity may not soon come again," Obama said at the White House Wednesday night.
Obama said he was "cautiously hopeful" about the talks, which begin with dim expectations and have been marred by two shooting attacks against Israelis in as many days.
Mediated at the State Department by Secretary of State Hillary Rodham Clinton and special Mideast peace envoy George Mitchell, the two leaders' discussions face numerous obstacles, not least renewed violence and provocations from Israelis and Palestinians opposed to the goal of an independent Palestine and secure Israel.
Gunmen from the militant Palestinian Hamas group, which opposes the talks, killed four Israeli residents of a West Bank settlement on Tuesday as Netanyahu, Abbas and the leaders of Egypt and Jordan convened in Washington. And on Wednesday, hours before the leaders were to eat dinner together at the White House, gunmen wounded two Israelis as they drove in their car in another part of the West Bank. Hamas claimed responsibility for that attack as well.
After the first attack, security forces loyal to Abbas, who heads a moderate government in the West Bank, quickly rounded up 250 Hamas members and supporters. Netanyahu said the violence would not disrupt the talks. AP/ MSNBC