Obama opens 2-day Mideast peace summit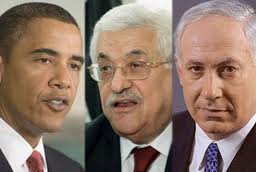 US President Barack Obama plunges into Middle East peacemaking today with two days of summitry he hopes will be the first step in brokering an Israeli-Palestinian peace agreement within a year.
Among his first tasks is to convince increasingly cynical Israeli and Palestinian publics -which have grown weary after 17 years of photo ops, handshakes and unfulfilled accords – that a two-state solution to the conflict remains possible.
Obama today will hold a series of meetings with Israeli Prime Minister Benjamin Netanyahu, Palestinian Authority President Mahmoud Abbas, Egyptian President Hosni Mubarak and Jordan's King Abdullah II before an evening dinner at the White House.
On Thursday, direct negotiations between Israel and the Palestinians – stalled for nearly two years – will be formally restarted in a ceremony at the State Department.
There are many obstacles to success, most immediate among them the looming Sept. 26 expiration of a 10-month Israeli moratorium on construction in West Bank settlements, which Palestinians see as a key obstacle to statehood.