50 people caught on camera in Hezbollah-al Ahbash clash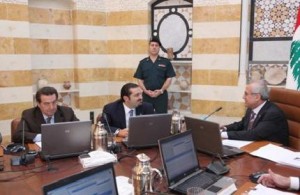 Information Minister Tarek Mitri briefed the media following the Cabinet meeting that was chaired by President Michel Sulleiman at Baabda Palace.
Borj Abi Haidar clash
"Authorities will interrogate 50 people in Beirut's Borj Abi Haidar's street battles after cameras caught pictures of them, Information Minister Tarek Mitri announced Wednesday."
"50 people will be interrogated after surveillance cameras caught pictures of them indicating their possible involvement in these events,"
"The Cabinet was briefed by Justice Minister Ibrahim Najjar on the arrests of 12 suspects in last Tuesday's fighting which was sparked by a dispute over a parking space and quickly developed into street battles with machine gun fire and rocket-propelled grenades."
This development comes after a bloody street battle that shook the Borj Abi Haidar neighborhood in the Lebanese capital on August 24, pitting supporters of the Iranian backed Hezbollah against the pro-Syrian Al-Ahbash militants —also known as the Association of Islamic Charitable Projects. 3 people were killed in the clash including a Hezbollah senior official.
The cabinet agreed that clashes similar to the Bourj Abi Haidar fighting must be dealt with by the national-unity government, Mitri said, adding that "maintaining civil peace is the responsibility of all political parties."
New appointments
The Cabinet also approved new administrative and judicial appointments.
Among the appointments were:
– Magistrate Mary Denise Moushi Chairperson of the Legislation and Legal Adviser at the Justice Ministry
– Magistrate Ali Ibrahim Deputy Director of Finance
– Judge Abdul Latif al-Husseini Government Commissioner of the State Shoura Council.
– Danny Nicola Gideon , General Manager of the Ministry of Industry.
– Ahmad Adnan Tamer , Director of the Tripoli Port Investment Authority
Hariri
Prime Minister Saad Hariri told the cabinet that his Syria visit was planned and that he discussed latest regional and domestic developments with Syrian President Bashar al-Assad.
Hariri traveled to Syria Sunday night to have a pre-dawn Suhour meal with Assad.
New commission
The cabinet also agreed to form a commission headed by Prime Minister Saad Hariri and including Energy Minister Gebran Bassil, Public Works and Transportation Minister Ghazi Aridi, Interior Minister Ziad Baroud and Environment Minister Mohammad Rahhal to take suitable measures concerning consequences of heavy rainfall.