Lebanon, Syria to jointly build a dam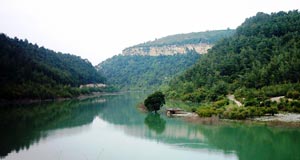 A joint dam construction project between Syria and Lebanon along the Nahr al-Kabir river may be in the pipeline, a string of news reports have suggested this week.
The river forms the northern end of the border between Lebanon and Syria.
"There is currently a joint venture with Lebanon to set up a dam on the river," Syrian Irrigation Minister Said al-Bunni was quoted by Syrian Aks Alser news website as saying Wednesday. "[The project] will have a capacity of 80-million cubic meters, 60 percent of which will be designated for Syria."
According to international conventions, Syria lies on a greater share of the water reserves and is therefore entitled to a larger share of the proceeds from the dam.
Bunni is now expected to hold talks with Energy Minister Gibran Bassil regarding the project, the Central News Agency (CNA) reported Friday. DS