Sfeir concerned over Hezbollah-Al Ahbash clash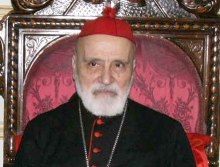 Lebanon's Maronite Patriarch Nasrallah Boutros Sfeir on Sunday said he is concerned about the bloody street battles which broke out earlier this week between Hezbollah and Al Ahbash members.
"These events are worrying," he said during his sermon.
He also referred to citizens who are complaining of being accused of issues they have nothing to do with.
Sfeir expressed hope that the justice would prevail in Lebanon.
His remarks come after the clash that took place last Tuesday in the Beirut neighborhood of Borj Abi Haidar between supporters of the the pro-Syrian Association of Islamic Charitable Projects—also known as Al-Ahbash—and the Iranian backed Hezbollah militants , leading to the death of three people, including Hezbollah official Mohammad Fawwaz.
The clash was the worst since May 2008, when Hezbollah gunmen swept through Sunni neighborhoods of Beirut after a government crack down on the group's telecommunications network.