Iran ready to supply Lebanon with arms, says envoy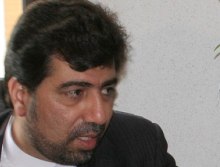 Iranian Ambassador to Lebanon Ghazanfar Abadi said Iran is ready to provide Lebanon with weapons, an issue that he discussed with President Michel Suleiman and Defense Minister Elias Murr.
Abadi told the An Nahar newspaper Saturday: "We are prepared to answer President Suleiman's call to arm the Lebanese army, and the meeting with minister Murr on this matter was excellent."
Asked if the army may be equipped with advanced rocket systems, he said: "I am a diplomat and do not interfere in military issues but the Iranian defense minister was clear on this matter. Everything is open before Lebanon in supplying it with arms of all kinds."
Abadi stated that Iranian President Mahmoud Admadinejad will visit Lebanon in October, noting: "The trip should have happened earlier, especially after President Suleiman's visit to Tehran."
Electricity and oil
Addressing Lebanon's electricity file, the ambassador said that there have been no advances in Lebanon in this field in 15 years, announcing that Iran is ready to solve this problem if requested by Lebanese officials.
"We are ready to solve the electricity problem in Lebanon. We can implement the plan in six months and with the best international prices. We have informed Energy Minister Jebran Bassil of this," he added.
The problem, he noted, lies in Cabinet as it needs to take a serious political decision on this matter.
Abadi also revealed that Iran is ready to help Lebanon in drilling for petroleum.
Hezbollah Secretary General Sayyed Hassan Nasrallah called on the government during his last speech to seek arms from Iran . His speech was described as the Iranization of Lebanon.
Berman
This comes after the chairman of the U.S. House Foreign Affairs Committee, Rep. Howard Berman ( pictured right) , said earlier in the month that he suspended $100 million in assistance to the Lebanese Armed Forces .
The Lebanese were very critical of Berman's move.
"The U.S. government is quite familiar with the reliability and importance of the Lebanese armed forces as a central institution in our country's quest for peace and security and for asserting state authority throughout the country," Mohamed Chatah, an adviser to Lebanese Prime Minister Saad Hariri, told The Associated Press. "The last thing that the U.S. or any other friend of Lebanon should do is to weaken the effort to build up our national army."
On the other hand State Department spokesman P.J. Crowley defended the U.S. assistance .
"We have an extensive military cooperation program with Lebanon because it's in our interest to have that program," he said. "It allows the government of Lebanon to expand its sovereignty. We believe that is in the interest of both of our countries and regional stability as a whole."
Crowley said he was not aware of plans to reevaluate U.S. military cooperation with Lebanon.
Lebanon's Defense Minister Elias al-Murr was also outraged by Berman's move and said earlier in the month " any party that wished to help the military had to do so without any conditions."
Murr added: "This person wants to make military aid conditional on not protecting (Lebanon's) land, people and borders against Israeli aggression. Let them keep their money or give it to Israel. We will confront (Israel) with the capabilities we own."
Iranian takeover
According to analysts the action taken by the US lawmaker could result in the complete takeover of Lebanon by Iran. The analysts think that Iran has anxiously been awaiting this golden opportunity to bypass Syria in its dealing with Hezbollah.
The analysts are saying that up until now all the weapons have been coming via Syria but once Iran starts arming the Lebanese army the shipments will be coming directly to Lebanon.
"I'm ready to provide weapons to the army, even from underground," Speaker Nabih Berri, a key ally of the Iranian backed Hezbollah said last week